Discovering Jaipur's Vibrant Nightlife: A Guide to Safe and Memorable Evenings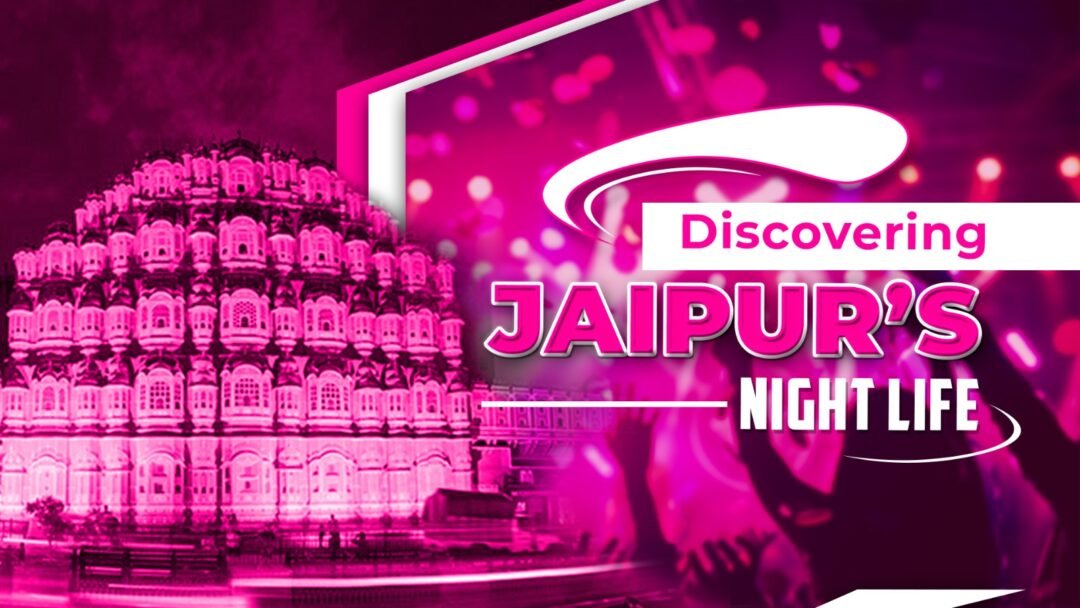 The nightlife of Jaipur starts when the sun sets over the Pink City and the city's rooftops come to life. Rooftop bars and restaurants are an essential element of Jaipur's nightlife since they provide a calm and romantic setting in addition to breath-taking views of the city's lit cityscape. The venue's backdrop of historic buildings and a gorgeous night sky contribute to an incredible experience.To help you make the most of Jaipur at whatever time of day, here are some locations and nightlife suggestions:

1]BAR PALLADIO-
Bar Palladio, a visual marvel that combines Italian sophistication with Rajasthani richness, is located inside Jaipur's Narain Niwas Palace. The bar, created by Marie-Anne Oudejans, features painstakingly hand-painted peacock designs that create a magical atmosphere under an opulent tent in a verdant garden. Cobalt blue and white make up much of the dcor, which exudes timeless beauty. The "Palladio Martini," one of Bar Palladio's famous signature drinks, is well known for its distinctive characteristics.
While having a great and comfortable night out in Jaipur, our taxi service, JCR CAB AGENCY, offers dependable transportation to and from Bar Palladio to assure your safe transit in Jaipur. Let us handle the travel so you can enjoy the sophistication and  creativity of Bar Palladio without stress.
Cost for two:  INR 1800 with alcohol
Timings: 6:00 PM – 11:00 AM
Location: Hotel Narain Niwas, Kanota Bagh, Narayan Singh Circle.

2] HOUSE OF PEOPLE-
Located in the center of Jaipur's entertainment district, "House of People" is a buzzing and exciting spot. Where modern design meets Rajasthani exuberance, this chic lounge-bar delivers an exhilarating ambiance. The location, which is renowned for its stylish decor and frequently hosts live music events and DJs, turns into a buzzing, social hub.It is one of the for most famous and most picked places for perfect outing in the beautiful Pink city because there's variety of snacks and drinks available here making everyone love it.
Look no further than our JCR cab service for nightlife in Jaipur. In particular, we are experts at offering dependable transportation to and from well-known nightlife locations like "House of People." Because of the expertise of our professional drivers in negotiating the city's streets, you can enjoy the evening without worrying about transportation. Let our JCR cab service handle your transportation as you dance the night away or sip on specialty drinks so you can concentrate on having a great time at "House of People."
Cost for two: INR 1500 with alcohol
Timings: 11:00 AM – 1:00 AM
Location: Hotel Las Vegas, A1, Sehkar Marg, Bais Godam, Jaipur.

3] Blackout Club & Terrace-
The Blackout Club and Terrace is a dynamic nightlife location that provides a distinctive and immersive experience. It is tucked away in the pulsating center of Jaipur. This location stands out as an exciting hotspot for visitors looking for an unforgettable night in the Pink City thanks to an atmosphere that combines modern design with Rajasthani charm. Modern sound and lighting systems at the club create the perfect atmosphere for wonderful evenings of dancing, music, and companionship. For those who prefer outside socialization, the terrace offers an extra dimension of appeal by offering an outdoor area.It serves varieties of dishes and have range of tastes of beverages and food, making it popular choice by locals and tourists. Consider using our late-night taxi services in Jaipur for a convenient and safe transportation in Jaipur out at Blackout Club and Terrace. After a fun-filled night, it's important to go home safely, and our cab service is designed to accommodate those demands. Your safety and peace of mind are guaranteed by our skilled drivers, who have experience navigating Jaipur's streets. So, whether you're drinking a cocktail on the terrace or dancing beneath the neon lights of Blackout, let our cab service handle your transportation so you can concentrate on making lifelong memories in Jaipur's exciting nightlife scene.
Cost for two: INR 1800 with alcohol
Timings: 6:00 PM – 1:00 AM
Location: Hotel Clarks Amer, Jawaharlal Nehru Marg, Near Malviya Nagar, Malviya Nagar, Jaipur
4] F BAR AND LOUNGE-
Jaipur's enchanting night scene finds a vibrant embodiment in the F Bar and Lounge, a captivating destination that marries contemporary chic with traditional allure.Situated in the Heart of Jaipur, this place is a proper balance of Modern elegance and Rajasthani charm, making visitors nightout a memorable one.
Upon entering the F Bar and Lounge, you're greeted by an atmosphere that effortlessly blends opulence and comfort. The decor is a testament to meticulous design, featuring lavish interiors, plush seating, and a lively bar. The sitting area make you feel warm and is a perfect spot for the outing of friends, colleagues and loved ones.
 The bar's extensive beverage menu is a testament to its dedication to diverse tastes. From meticulously crafted cocktails and a wide selection of spirits to refreshing mocktails, it offers something for everyone. The food menu complements the drinks perfectly, featuring an array of delectable finger foods and light bites.
The F Bar and Lounge comes to life with regular live music performances, DJ nights, and themed parties. This ensures an electric and ever-evolving experience for guests, turning every night into a memorable affair.
Cost for two: INR 1900 with alcohol
Timings:  2:00 PM – 3:00 AM
Location: Mirza Ismail Road, West Jaipur


For convenient and safe nighttime transportation, rely on our JCR taxi service. Our knowledgeable drivers ensure a safe return home after a night of excitement because they are familiar with the city.With us you can experience safe transportation in Jaipur. We place a high priority on your security and provide dependable transportation for a worry-free night out. With us, you can fully take advantage of the exciting nightlife in Jaipur  while knowing that you'll arrive home safely and comfortably.
Conclusion: With our taxi service in jaipur, you can enjoy Jaipur's nightlife with confidence, knowing that you'll be safe and comfortable the entire time. This  will you friendly vibe with enjoying the purest love and peace of Jaipur, the Pink city.