Top 10 Restaurants in Jodhpur – JCR Cab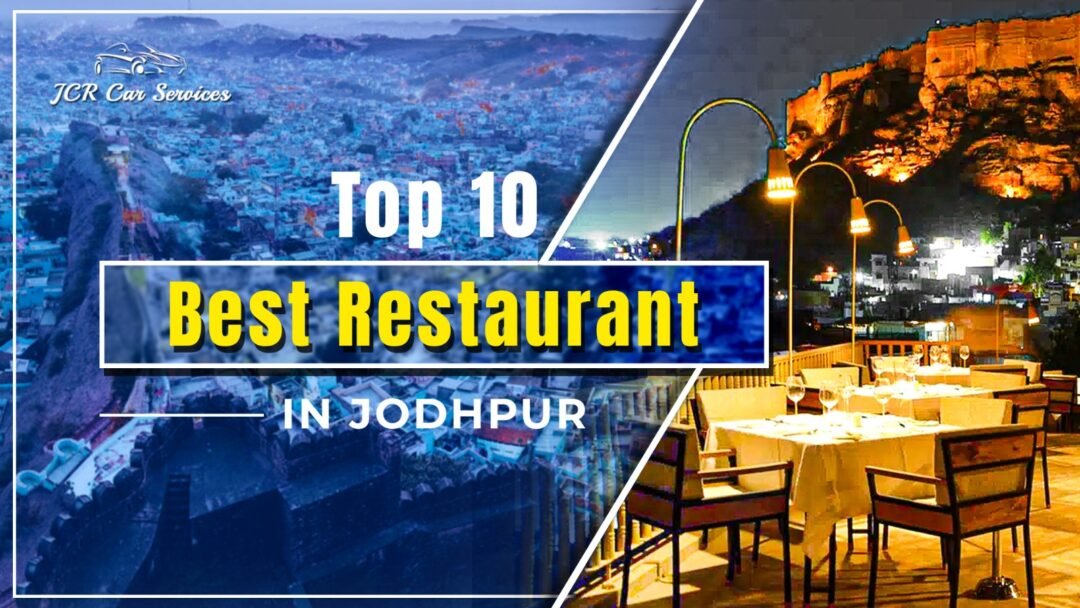 The charming city of Jodhpur, located in the centre of Rajasthan, is home to historical forts, a thriving culture, and a culinary experience that is nothing short of extraordinary. Jodhpur offers a variety of cuisines, including both international and traditional Rajasthani flavours. We've put together a list of the top 10 restaurants that you absolutely must eat at while you're here to help you discover the culinary gems of this city.
1)Indique Restaurant :-
Restaurants are known for their food as well as for their views. Indique Restaurant has the most beautiful view of Jodhpur, i.e. of Mehrangarh fort. they offer a rooftop sitting from which Mehrangart fort is your sight & it's so beautiful, especially at night. This Restaurant serves delectable North Indian & Rajasthani cuisine. The speciality of This restaurant is laal maas i.e. Spicy Rajasthan lamb curry.
Timings of this Restaurants is 12 pm-3:30 pm, 7 pm-11 pm
2) Risala Restaurant at umaid Bhawan Palace
Situated at Umaid Bhawan Palace, this beautiful & luxurious restaurant has its beauty. At Risala Restaurant one can experience a meal with Rajasthan Loyalty & culture. They provide the most luxurious service with the best meal. This restaurant has a fusion of Indian  & international cuisine Speciality of risala Restaurant is their Signature thali.
Timings of this Restaurant are – 7 am to 11 pm.
3) Gypsy Restaurant:-
Gypsy Restaurant is known for its serene ambience and has the most delicious food. This restaurant has very delicious vegetarian food and vegan food in Jodhpur. They provide Indian and vegetarian cuisine Speciality is paneer tikka.
Timings of this Restaurant are – 11 am to 10:30 pm.
4)Darikhana at Ajit Bhawan.
Evening meals at Darikhana are most famous because of its beautiful view of the lighted Mehrangarh fort & candlelit Haveli courtyard below. They use hand-ground spices which make their meal Line They serve different cuisines such as Indian, Asian & international. They too offer vegetarian-friendly vegan options & gluten-free dishes. Their special dish is dal Baati churma.
Their timings are:- 12 pm to 3 pm, 7 pm till pm.
5) On the Rocks Bar & cafe.
 On the Rocks cafe is the oldest sandal stone restaurant in Jodhpur Cuisines cafe offered here are Chinese, Italian Indian, pan Asian & continental. Their services give a Rajasthani, local vibe. The speciality of this cafe is the lively atmosphere. Best dish on the Rocks Bar & cafe Tandoori Platter.
Timings of a cafe at 12 pm to 12 am.
6) Jharokha at Raas Jodhpur:
This Restaurant gives the best view of Jodhpur by giving a skyline extravaganza & offering a 360-degree view of the city which includes a front view of Mehrangarh Fort. & a bird's eye view of famous Stepwell Toorji Ka jhalra. They offer a BBQ, restaurant, a lounge Bar, and serve a wide range of Indian & international cuisines. You can watch the mesmerizing sunset over Mehrangarh Fort on their rooftop. They serve the best Butter chicken in Jodhpur city.
Their timings are 
7 am to 10:30 am,
12 pm to 3 pm, 7 pm to 11 pm.
7) Shandar sweet home.
This place is very famous for its variety of sweets they offer. They have mouth-watering Snacks and sweets. This place is recommended to take a small bite of Sweets & snacks after a meal. They serve the best Mirchi vada.
Their timings are
7 am to 11 pm.
8)Janta Sweet home
Janta Sweet Home maintains the authenticity of Rajasthan by serving the best & authentic Rajasthani sweets & Snack. They offer various types of mithai such as Ghewar, ladu, chakki, and various types of snacks such as namkeen, Mirchi vada, chips, and dry fruits & they offer gift hampers for various occasions too. Their special dish is Kachori.
There timing is
8 am to 11 pm.
9) Cafe Mehran.
In Jodhpur, Rajasthan, close to the magnificent Umaid Bhawan Palace is a hidden gem called Cafe Mehran. This charming restaurant provides a genuine Rajasthani food experience in a warm and welcoming atmosphere.
Cafe Mehran's atmosphere combines simplicity and history. The warm and kind personnel will welcome you as soon as you enter and will be happy to expose you to Rajasthan's delectable flavours. The interior design of the restaurant honors the local cultural heritage while fostering a cozy and welcoming ambience.
The Rajasthani thali at Cafe Mehran is without a doubt its main draw. A wide variety of foods that highlight Rajasthan's culinary heritage are served at this customary feast. Each dish on the menu, from the crispy and flavorful Dal Baati Churma to the spicy and delectable Laal Maas,
The timing of this cafe is
 8 am to 10 pm.
10) Gypsy dining hall.
Gipsy Dining Restaurant is a culinary jewel that provides a varied and lively dining experience. It is located in the centre of Jodhpur, close to the famous Clock Tower. The restaurant's stunning rooftop location and panoramic views of Jodhpur's Blue City provide a wonderful setting for your supper.
You'll be welcomed by a burst of colours and a lively environment as you make your way to the rooftop. The decor of the restaurant combines contemporary style with Rajasthani beauty, and it features bright seating arrangements that beckon you to unwind and take in the lively ambience.
Gipsy is recognised for its diverse menu, which includes Chinese, Indian, and other culinary options. There are a variety of international meals, savoury Chinese stir-fries, and the rich and spicy Laal Maas to savour.
Their timings are:
12 pm to 3 pm, 7 pm to 10:30 pm.


In conclusion,a taste of authentic Rajasthani food is served in a regal setting at this restaurant, which is housed in the picturesque heritage hotel of Rohet Garh. Rajasthan's royal legacy is embodied at Rohet Garh Restaurant. The cuisine combines traditional Rajasthani dishes with modern adaptations and is served in an opulent atmosphere. Dining here is a regal experience rather than just a meal.
These eateries guarantee to titillate your taste buds and leave you with lifelong memories, whether you're a foodie or a traveller looking for a taste of Jodhpur's culture. During your vacation, be sure to sample the Blue City's numerous cuisines.
Which of these top 10 Jodhpur restaurants would you be adding to your culinary itinerary, then? Tell us in the comments section below!