Amazing Things to do in Jodhpur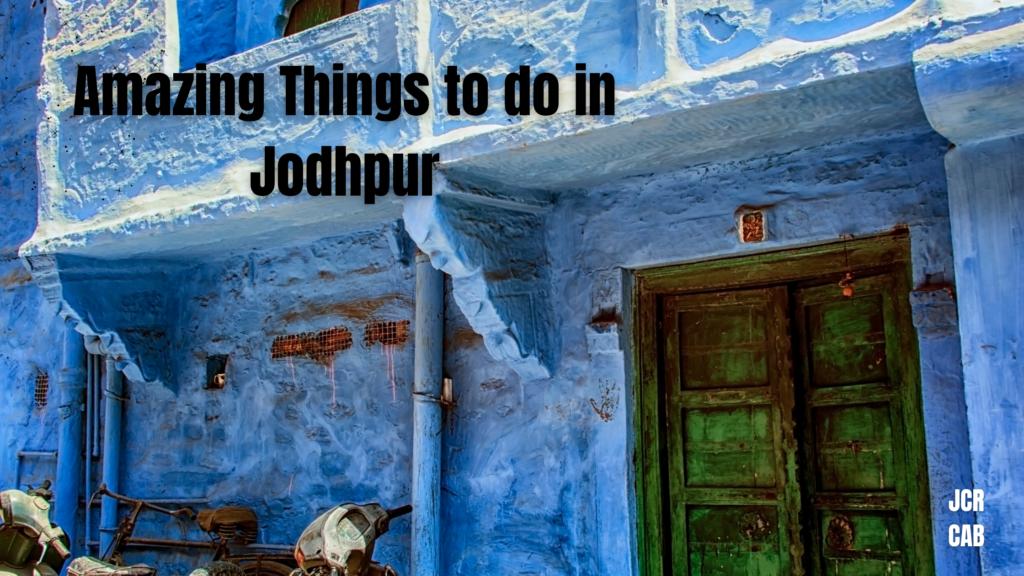 Jodhpur, one of the most popular tourist spots in Rajasthan, is bustling with tourists all year round. Jodhpur's rich culture, tradition, and friendliness keep pulling visitors back towards the city. You might be residing anywhere in the world,
but you visit Jodhpur once, and your heart will make a home of its own in this city royal costumes and delicious cuisine.
The city is popular for a reason. It has something for everyone. Beautiful gardens, exquisite flora & fauna for the nature lovers; Majestic forts and monuments for architecture enthusiasts; incredible historical stories with pieces of evidence for the history fans; delicious varieties of food for diehard foodies; Brilliant sightseeing places for traveler's wanderlust; and exciting shopping places for the eager shoppers. Jodhpur is a complete holiday package. Whether you're traveling with your family, friends, or partner, Jodhpur fits all travel criteria.
If you are planning to travel to Jodhpur this holiday season, here is a list of some amazing things that you can do while you are in Jodhpur:
Go Sightseeing in Jodhpur
Jodhpur is probably one of the most exciting places for sightseeing in India. From the majestic Mehrangarh Fort, the beautiful Mandore Gardens to small cenotaphs in and around the city, you are in for an enriching experience in the city. Here is a list of all the popular Jodhpur Sightseeing Locations that you should not miss:
| | | | |
| --- | --- | --- | --- |
| Forts | Palaces & Cenotaphs | Lakes | Historical Monuments |
| Mehrangarh Fort | Umaid Bhawan Palace | Kaylana Lake | Mandore Ruins |
| Rohett Garh Fort | Jaswant Thada | Balsamand Lake | Ghantaghar |
| Fort Chanwa | Ranbanka Palace | Sardar Samand Lake | Statue of Rao Jodha |
| Fort Khejarla | Sardar Samand Palace | Ranisar Lake | Jai Pol |
| Fort Luni | Panchkund | Baiji ka Talab | Toorji Ka Jhaalra |
| Kumbhalgarh Fort | | Gulab Sagar | Loha Pol |
| | | Fateh Sagar | |
| | | | |
| Museums | Parks & Gardens | Temples | Others |
| Mehrangarh Museum | Mandore Gardens | Kunj Bihaari Temple | Machiya Park |
| Umaid Museum | Nehru Park | Achalnath Temple | Rao Jodha Desert Rock Park |
| Arna Jharna Museum | Umaid Park | Ganesh Temple | Pachetia Hill |
| Singaria Coin Museum | Ashok Udyaan | Chopasni Mandir | Bishnoi Village |
| Mandore Museum | Masuriya Hill Gardens | Baba Ramdev Temple | |
| | Shastri Circle | Chamunda Mata Temple | |
| | | Sidhnath Temple | |
| | | Pal Balaji Temple | |
| | | | |
All the sightseeing locations in Jodhpur will offer you a unique experience. Each place has a story attached to it. Whenever you visit, make sure that you stay attentive to any Tourist Boards or information centres. If you feel more curious, just talk to the locals and ask them about various stories and legends attached to the places, and you will definitely learn a lot more than you can find on the internet.
Fun Adventure Activities to Do in Jodhpur
Unlike the popular belief in foreign countries, Jodhpur is not a backward city from the tourism point of view. Jodhpur offers a lot of fun adventure activities to the tourists as well as for the locals to add that thrill element to your holiday and Jodhpur.
The flying Fox nearby Mehrangarh offers an amazing ziplining experience. There is also a ropeway near Sidhnath Temple. There is a small amusement park in the vicinity of Mandore Gardens. You can enjoy boating in Kaylana Lake or near the Ganesh Temple. The locals frequently go trekking on the multiple trails in the city, such as Mehrangarh Trails, Sidhnath Trails, Bishnoi Village Trails, Rao Jodha Desert Rock Park, and many more.
If you are looking for a more culture-oriented experience, you can go for a photo-walk inside the old city and wander around among the houses painted in the soothing colour of Blue. Did you know that all the houses in Jodhpur were whitewashed blue in the olden times? And hence, it began to be called the 'Blue City'. Another popular nickname for Jodhpur is 'Suncity', derived from the name of the Fort. Since 'Mehrangarh' literally means 'Fort of the Sun', Jodhpur also began to be known as the City of the Sun or 'Suncity'.
Add more thrill to your holiday tour. Book a Taxi in Jodhpur with JCR Cabs.
Exciting Shopping Places in Jodhpur
Jodhpur is a city of rich tradition, customs and rituals. A lot of people hold on to their customs very dearly. The culture of Jodhpur reflects in their costumes, foods, houses, ornaments, and even their day-to-day activities. If you want to get face to face with this Jodhpuri Culture, you should be heading to the street markets. Here, you will not just find souvenirs for your tour, but you will also get to interact with hawkers and vendors and learn more about their lifestyles.
Here is a list of Top 8 Shopping Places in Jodhpur:
Ghantaghar Market
Nai Sarak Market
Sojati Gate Market
Umaid Bhawan Palace Market
Tripoliya Bazar
Sarrafa Bazar
Mochi Bazaar
Kapda Bazar
If you wish to buy clothing and accessories from modern branded stores and malls, you can visit Ansal Royal Plaza, Ashapurna Mall, Reliance Trends Mall or multiple other store outlets located at Sardarpura 'B' and 'D' Road Market in Jodhpur.
Try the Mouth-watering Cuisine of Jodhpur
Every visitor in Jodhpur falls in love with the amazing cuisine of Marwar. There are diehard fans of Jodhpuri delicious sweets like Ghewar, Mawa Kachori, Boondi Ke Laddu, Makhan Bada, Thorr, Besan Ki Chakki, Jalebi, Imarti and Makhaniya Lassi. Delectable Dishes like Gatte Ki Sabzi, Gulab Jamun Ki Sabzi, Chakki Ki Sabzi, Ker Sangri Ki Sabzi, Sev Tamatar Ki Sabzi, Malai Kofta and Lassan ki Chutney have been winning hearts worldwide. Royal non-veg recipes with the Mughal Cooking style such as Laal Maas, Haldi Maas, Mughlei Kabab, Biryani, etc., are enjoyed widely. Jodhpur is also famous for Namkeen like Mirchibada, Pyaaj Ki Kachori, Mogar Kachori and Spicy Samosa. You try Jodhpuri Food once, and you'd want to come back here just so you could get to eat it again.
Jodhpur is a globally popular tourist location. People are fond of the rich cultural experience that Jodhpur has to offer, with a variety of things to do in Jodhpur. The place does not disappoint you, no matter how high expectations you have in your mind.