8 Most Loved Markets of Jodhpur – Best Shopping Places in Jodhpur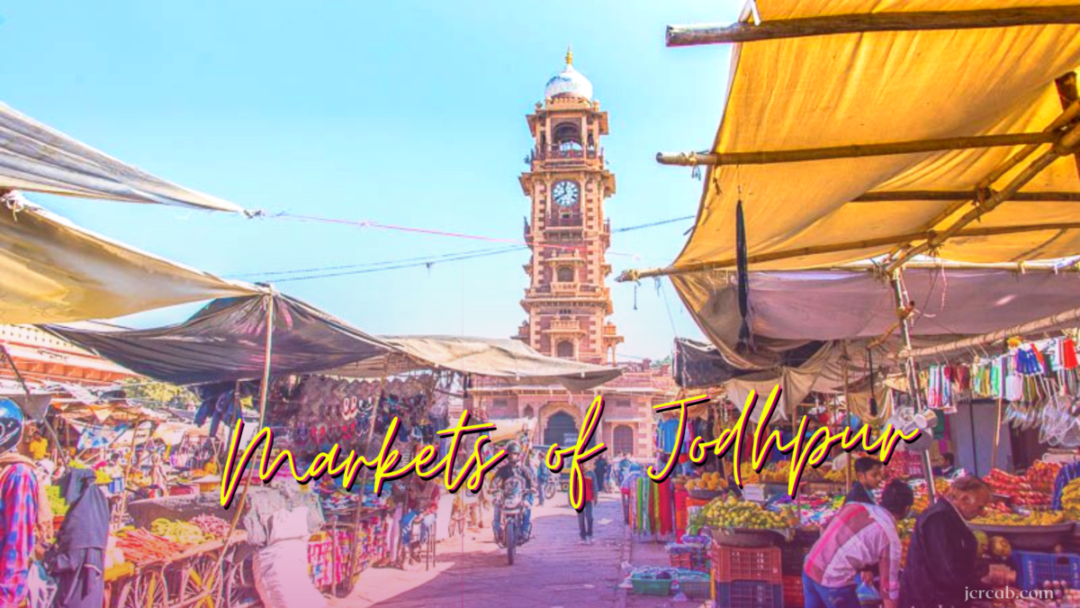 Jodhpur, also known as the "blue city" is a shopper's paradise. In the times when international brands are booming, there are only a few cities left where you can still find markets filled with cultural and traditional items; and Jodhpur happens to be one of them. If you are visiting Jodhpur on your vacation, do not miss shopping while relishing the beauty of the city.
Colorful Rajasthani fabrics like Leheriya and Bandhej, beautiful antic silver jewellery, classic handicrafts, chic juttis/mojaris, and traditional attires are the major attractions of the shopping spots in Jodhpur. You won't be able to resist yourself from buying almost every other thing you see in the markets here. The beautiful colors of the market let out such a happy vibe that will definitely leave an everlasting imprint in your mind. Here we are listing the most loved markets in Jodhpur which you must not miss while vacationing in Jodhpur.
Clock Tower Market
Also known as Ghanta Ghar, the clock tower in Jodhpur is the best place to shop for the finest variety of Indian spices. The Mathaniya Mirchi or Red Chilly from Mathaniya is one of the most-shopped spices from this market and is exclusive to this place. Along with spices, you can also shop for tea, handicrafts, antic jewellery, and hand-embroidered fabrics from here. After you are exhausted with shopping, you can relax and enjoy Makhaniya Lassi along with Shahi Samosa available in many shops at the market. If you are traveling in a group, you a book a tempo traveler in Jodhpur to reach this market easily.
Kapraa Bazaar
This is the most famous market in Jodhpur. Not just tourists, but locals too love shopping from here. This market is the hub for the most famous fabrics of Rajasthan- Bandhej, and Lehariya. You can get fabrics, suits, sarees, and dresses of these fabrics in this market. Men can get traditional Safa (turban) of this fabric too. These prints are done on various fabrics like silk, chiffon, georgette, etc.
Mochi Bazaar
If you visit Jodhpur, you will be amazed to see the colorful traditional footwear worn by many men and women in the city. This footwear is known as Mojari and is available in a variety of colors. Not just traditional people, but modern youth also prefer to wear Mojaris in the city because of their chic and colorful appearance. The Mojaris are available in varying materials, prints, colors, and designs. Mostly they are made out of leather and you can find loads of them in the Mochi Market. The word Mochi itself means cobbler. Other than mojari, you can also shop for junk jewelry and lac bangles from this market. You can easily reach this market by hiring a cab in Jodhpur.
Nai Sarak
This market is the best place for buying traditional Bandhej fabric. You can find almost everything in this market, from clothes to footwear, jewelry, and handicraft items. There are many shops in the Nai Sarak Market and each one boasts of its great variety. You can also try bargaining in these shops as the price that you are asked for can greatly vary from the price that you pay so you might end up getting a great deal. If you can get into the haggle of bargaining, you can visit the National Handloom Corporation which is a showroom where all the items are available on fixed prices. It will also give you an idea of how much you should be paying for the item from other shops.
Sarafa Bazaar
If you are fond of silver jewelry and want to get your hands on some of the finest and never seen before designs, you can visit the Sarafa Bazaar by booking a cab service in Jodhpur. This market is renowned for an array of its classic jewelry, artifacts, trinkets, and even home décor. This market can cover almost all things that are in your Jodhpur Shopping list so visit this market if you are short on time.
Sojati Gate Market
All the markets that we are mentioning in this blog hold an importance of their own and should not be missed. One of them is the Sojati Gate Market which is best known for Rajasthani handicrafts, jewelry, tie & dye fabrics, etc. Ladies can also get the beautiful temporary tattoos known as Henna or Mehendi from this market.
Tripolia Bazaar
You can buy a lot of things from this market without burning a hole in your pocket. This is one of the most popular markets in the city. You can buy many things such as Bandhej Fabric, Mojaris, Handicrafts, and Scroll Paintings from here. You can also find some thrift shops in this market.
Umaid Bhawan Palace Market
Let your shopping at Jodhpur be a stunning one with the Umaid Bhawan Palace Market, which is home to some stunning collectibles. You can look for metalwork, tasteful furnishings, stoneware, and materials from this market. You can spot this market while walking around the Umaid Bhawan & Ajit Bhawan. The rundown of things that you can purchase from this market incorporates metal and copperware, silver gems, crafted works with sequins and mirrors, ceramics, artistic creations, and the sky is the limit from there.