Buy Traditional Things In Local Market Jodhpur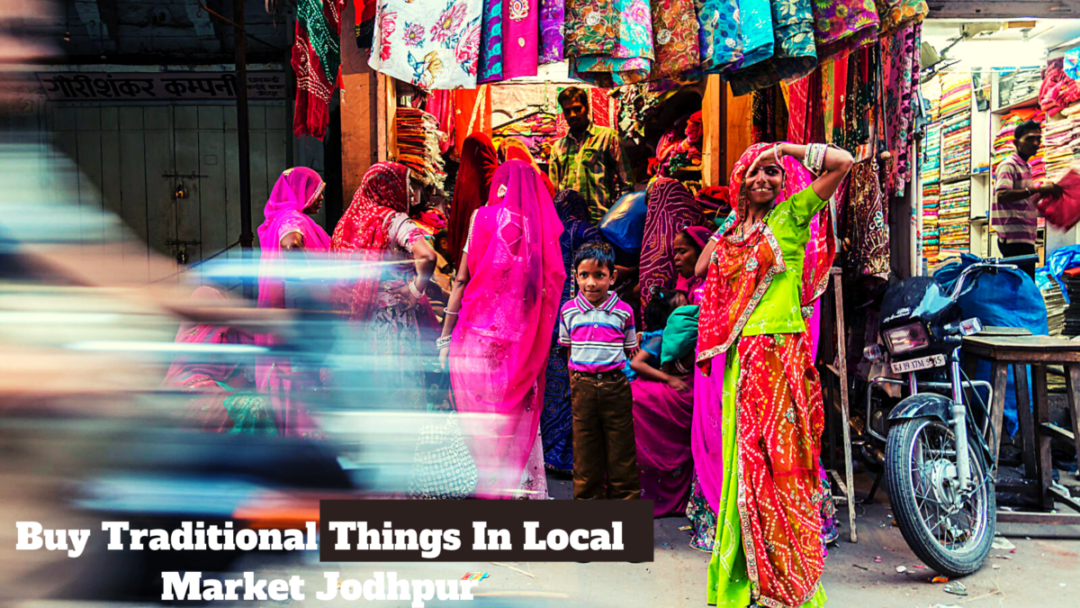 Travelling and shopping are synonyms for each other. You have never heard of someone who travels and doesn't shop. Shopping is an indispensable feature of traveling. Your trip will only be considered complete when you eat and shop in the local markets. 
Street and local markets of the traveled destination are the best places for shopping authentic and genuine products at an affordable price. Similarly, if you are traveling to a historic and culturally rich location like Rajasthan, then you can find the authentic tradition of royalty in its forts and markets. 
Rajasthan has some of the most fantastic tourist places in the world. One such destination is Jodhpur. It is also known as the "Blue City" due to its blue-painted houses near the rigid Mehrangarh Fort. This blue sapphire of Rajasthan is famous for its adventure, tourist, food, and shopping places. While traveling to the city of royalty, you must visit the local market in Jodhpur not to buy only artifacts or clothes, but you'll buy the memories of life. A piece of glorious past and courage can be seen in the markets of Jodhpur. 
But what are these traditional things and from where can you buy them? Well, traditional items mainly include Clothes, Jewellery, Footwear, Antiques, and Spices. They all can be found in the different markets, but the most visited are given below:
Clothes 
When you travel to historical places and shop for textiles from there, your shopping won't be completed unless you buy them from the street markets. Every site has its own culture and lifestyle to live in. Similarly, if you want to experience the richness of Rajasthan, then you should roam around the streets of the city. 
Jodhpur is one of the oldest and greatest dynasties of the state and offers magnificent markets to buy. Kapraa Bazaar and Nai Sarak are two prominent places here in Jodhpur that offer the traditional dyed fabric called 'Bandhej.' This fabric is made up with a complex process of dying the material into different colors while ensuring the intricate pattern. Bandhej cloth could be a great gifting option for anyone. 
Kapraa Bazaar, another place to buy 'Lehariya' print, which originated in Jodhpur. Women who like print and patterns enjoy buying clothes from here. Dupattas, Sarees, and Suits can be found easily in the market. These markets are among the busiest in the town and can be best traveled by a car rental in Jodhpur.
Jewelry
Shopping in Jodhpur is no less than an adventurous ride, especially when you want to buy jewelry. Rajasthan is among those places where traditional people wear jewelry irrespective of their gender. Men can easily be found in the streets of Jodhpur wearing the conventional jewelry of Rajasthan. 
In Jodhpur, Sarafa Bazaar and Tripolia Bazaar are the two best places known for authentic and traditional jewelry. The variety of silver jewelry cannot be found anywhere else in Jodhpur. If good clothes with accessories are what you like, then you indeed visit Saraf and Tripolia Bazaar. 
Footwear
Your traditional shopping won't be completed if you buy the Rajasthani footwear known as 'Mojri.' They are similar to 'Nagra,' another traditional footwear found in India. Mochi Bazaar in Jodhpur offers world-famous Mojris, also called Jodhpuri Jutti. 
It is traditional footwear of Rajasthan mostly made up of pure leather and is in high demand both in India and abroad. They come in various colors and patterns and look matchless when wearing traditional Rajasthani attire. If you are going to wear Kurta Pyjama or a Kurta Dhoti, then a Mojri is a must. 
Antiques 
As time passes, some items become expensive and some priceless, and they are called antiques when they are a specific year old. India is the land of Maharajas and Maharanis and, once called the "Golden Bird," is filled with history and culture. Many antiques and handicrafts can be found here, some are in the museums, and some are for sale. 
Here in Jodhpur, Sojati Gate Market and Umaid Bhawan Palace Market are famous for these types of antique and handicraft items. From small stalls to big shops, the area is filled with ancient antiques, artifacts, and handicrafts. Artifacts of various metals, like copper, brass, silver, are available here in large quantities. If you have a classic taste of buying traditional things like furniture, marble items, Pottery, mirrors, and beads, then this place will be a paradise for you. 
Spices
The primary ingredients of Indian food are available in hefty quantities in Jodhpur. Ghanta Ghar or Clock tower market is the best place for authentic Indian spices. From commonly available to rare to find, every herb can be found here. 
Walk in the markets of Clock Tower and fill your nostrils with the pungent smell of spices. The 'Mathania Red Chilli' will undoubtedly be the finest red chili you've ever come across. Single-visit to Ghanta Ghar with a Makhania Lassi will be a delight to your eye and taste buds. 
I hope all is set for your upcoming Jodhpur trip. You can hire a Taxi in Jodhpur to get the most out of your journey.


Must Visit :


Chardham Yatra Tour Package

Cab Service In Jodhpur
Jodhpur taxi service

taxi service In Jodhpur

Mehrangarh Fort, Jaswant Thada, Umaid Bhawan Palace Museum