5 Best and Luxury Hotels In Jodhpur – JCR Cab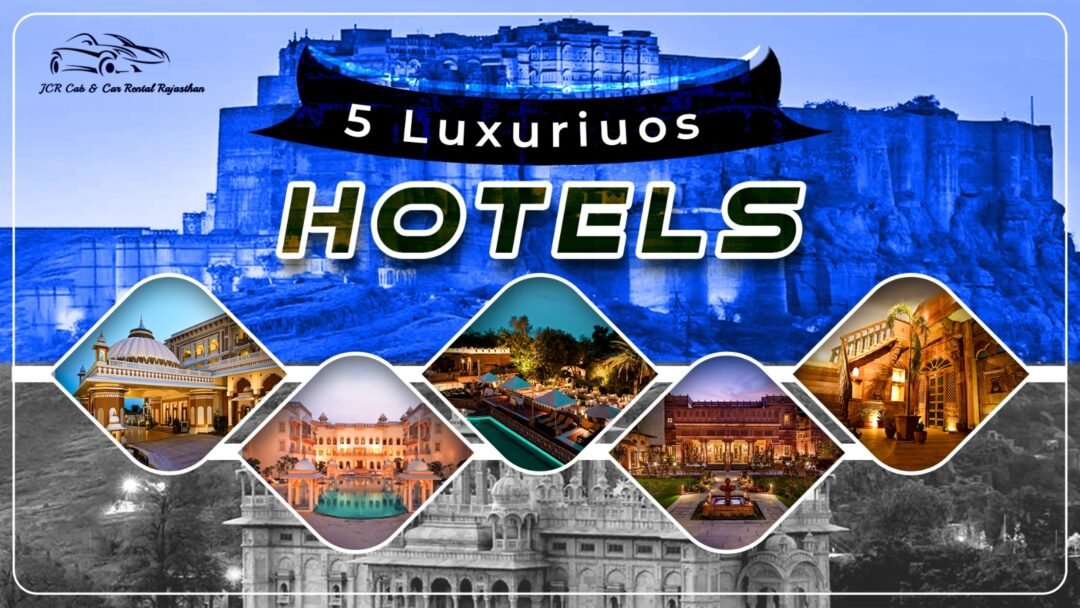 Jodhpur, also known as Blue City, is very well known for its heritage and culture. It is also known for its mouth-watering food and blue architecture. If someone's looking for some Desi stuff, Jodhpur is the city that first strikes their mind. There are many mesmerizing forts and palaces to visit.
To visit this beautiful city, it is advised to stay at least 2-3 days, and for that stay, we're here to suggest some affordable and luxurious hotels in Jodhpur.
1] UMAID BHAWAN PALACE
Built between 1923 and 1943 by Maharaja Umaid Singh, this beautiful property is the new symbol of New Jodhpur and the largest private residence in the world. It is also known as Chittar Palace because it is located in the Chittar Hills. This palace has the most majestic dome and the best architecture. The intricate carvings and grand staircase are exceptional, and hence it is one of the best hotels in Jodhpur. Umaid Bhawan Palace is spread over 26 acres, of which 15 are covered by gardens. In total, there are 347 rooms, of which 70 are grand rooms and suites. Part of this palace is managed by Taj Hotels, and they offer exclusive Butler service. This palace also includes a museum with lots of antiques. This palace has the most fascinating Art Deco interiors and is equipped with the best amenities. Every room in this palace is about 43–70 sq. m. 
The price starts at 68,700 INR and includes free Wi-Fi and a king-size bed for two guests.
It is around 3.5 km away from the airport and
4-5 km away from the railway station.
[2]TAJ HARI MAHAL
Taj Hari Mahal is a gem for Jodhpur and is a perfect mixture of Rajasthan's royal heritage and modern culture. This luxurious hotel is a part of the Taj Hotel group and is filled with luxurious amenities.
This place has the most opulent decor and a soothing, super warm ambiance to welcome guests. It has the most vibrant architecture, such as beautiful domes and jali work, making its heritage look alive.
One should choose this place to experience comfort and breakthroughs. The hotel provides the most luxurious rooms and suites, and the rooms are a perfect blend of Rajasthani culture and modern amenities. This place also offers 24-hour multi-cuisine meals and vivid restaurants such as "Good Earth" and "The Marwar". One can look for this hotel for its better ambiance, as this place is spread over 6 acres and visitors can roam around in this luxury hotel. They also offer spas and swimming pools for relaxation. To encourage their Rajasthani culture, they have baajot and bonfire serenade in the cooling atmosphere at night.
The starting rate of this hotel is around 10,350 INR.
DISTANCE-
From Airport: approximately 6 km
From Railway Station, approximately 3.5 km
3] RAAS JODHPUR-
A scenic hotel in Jodhpur is very well known for its location. Situated on the base of Mehrangarh Fort, this hotel is a boutique hotel, which is a small, unique western culture hotel. It has four buildings and three additional contemporary structures. The entrance of this beautiful place is worth seeing, with a magnificent pool covered on each side and a passage in between. The specialty of this hotel is that, firstly, it is made up of red sandstone, a specialty of Jodhpur. Secondly, every room of this hotel has an unbroken view of the great Mehrangrah fort. It has a marvelous view from the top as it has rooftop dining, especially in the evening. The cafe with the rooftop is The Darikhana, which offers the best sights and the best cuisine, from Indian to international cuisines, and The Baradari Café is the best location for lunch and breakfast.
This hotel also provides services like a heated swimming pool or spa for relaxation. For entertainment purposes, the hotel organizes folk dance and music, encouraging Indian culture.
Distance from the Airport: approximately 8 kilometers
Distance from Railway Station: approximately 3.5 kilometers
4]VANTA BY TAJ
Vivanta Jodhpur, by Taj, is a beautiful place nestled in the heart of Jodhpur. This hotel is a perfect blend of modern comfort, Rajasthani hospitality, and most importantly, Taj Group's legendary service standards. They do have modern equipment with a touch of Rajasthani accent. This hotel provides services such as air conditioning rooms, rooms for non-smokers, refrigerators, a television, a mini bar, free internet access, and a newspaper. Some of the rooms even have attached balconies or terraces, and some might even have ironing boards.
They have on-site activities such as a game room, a health club, a health spa, jogging trails, and an outdoor pool.
There are many restaurants for different cuisines and meals, such as
Latitude restaurant: It is best for international and Indian cuisine.
Good Earth: This has pure Rajasthani and North Indian traditions.
Marwar Cafe: This is known for quick bites, fast food, and some desserts with stylish bars.
Tipple: This is the most relaxing cafe.
This hotel is also profound for the various business meetings happening here. From this hotel, various tourist places are travel-friendly, such as Jaswant Thada, Umaid Bhawan Palace, Mehrangrah Fort, etc.
Distance from the Airport: approximately 6 kilometres
Distance from Railway Station: approximately 4 kilometres
The room price starts at 7350 INR; hence, it is quite an affordable hotel in Jodhpur.
5]RADISSON JODHPUR-
The Radisson Hotel is known for its architecture and interior design. Its interior reflects the city's royal heritage. Radisson offers luxury comfort to its guests. They have a variety of rooms, such as deluxe rooms, executive suites, premium suites, etc. Each room has different types of amenities, ensuring a comfortable and relaxing stay. The best part of this hotel is the warm service of the staff and their special attention to every minute detail and the needs of their customers.
The fares of the hotel starts from ₹15426
Distance from the Airport: approximately 3 kilometres
Distance from Railway Station: approximately 6 kilometres
In conclusion, every hotel mentioned above helps you experience opulence or a calming environment and is the most luxurious hotel in Jodhpur. Every place ensures a worthwhile ambiance, modern facilities, and much more, and most importantly, they are very close to stations and airports, making your journey travel friendly and saving time to explore this beautiful city.Make sure to visit these luxurious hotels in Jodhpur, and to make your journey easy, JCR cab service is at your doorstep.