Planning a Holiday Tour in Jaisalmer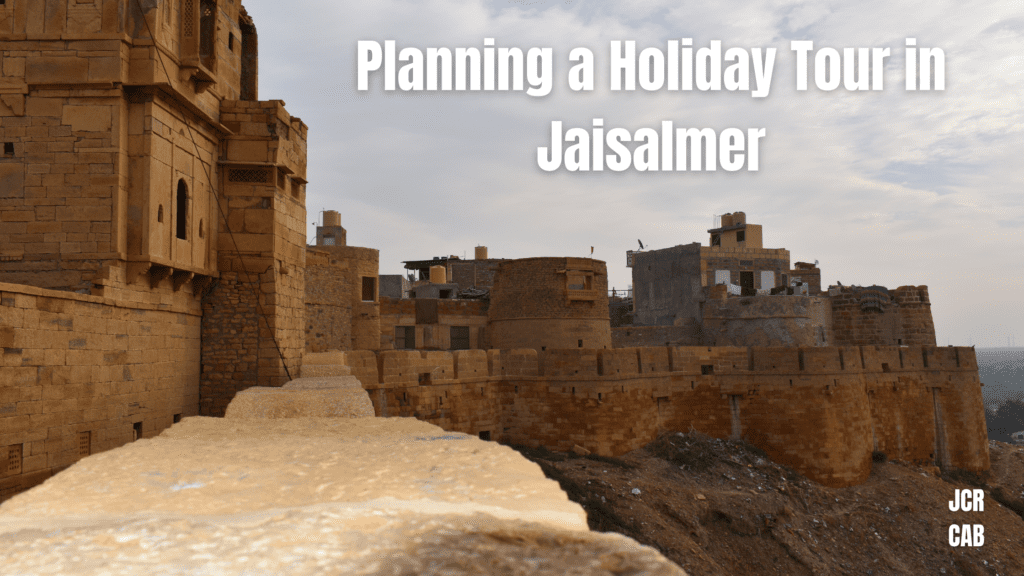 The epicenter of Rajasthan Tourism, Jaisalmer has become one of the most visited tourist destinations in India. This is due to the various unique characteristics of this place, such as its geographical location, vivid flora and fauna, topography, rich culture and tradition, a dual rural and urban experience, and unlimited adventure opportunities.
Jaisalmer has rapidly become one of the most favourite tourist spots of travellers in India. People don't just visit Jaisalmer; they come here, make memories and make a home of their heart in the Golden sand dunes of Jaisalmer, a.k.a. the Golden City.
If you are planning to spend this holiday week in Jaisalmer and want to make the best out of your time in the desert, here is a list of all the amazing things you can do in Jaisalmer.
Sightseeing in Jaisalmer
Jaisalmer is one of those cities which offer vivid locations in itself. If you are spending a weekend in the city, there are various tourist spots for you to see and explore. The city is full of exceptional buildings and houses. Every street has something interesting to offer. Jaisalmer is a perfect place for lovers of aesthetic and curious photographers. Here is a list of Jaisalmer Sightseeing places that you should not miss while traveling in the city:
| | | | |
| --- | --- | --- | --- |
| Forts | Palaces & Cenotaphs | Lakes | Historical Monuments |
| Jaisalmer Fort | Nathmal Ji ki Haveli | Gadisar Lake | Longewala War Memorial |
| Khaba Fort | Salim Singh ki Haveli | Amar Sagar Lake | Lodurva |
| Fort Rajwada | Patwon ki Haveli | | Tazia Tower |
| | Mandir Palace | | |
| | Vyas Chhatri | | |
| | Sunset Palace | | |
| | Baa Ri Haveli | | |
| | Raj Mahal Palace | | |
| | | | |
| Museums | Parks & Gardens | Temples | Others |
| Jaisalmer Govt. Museum | Bada Bagh | Jain Temples | Kuldhara Village |
| Jaisalmer War Museum | Desert National Park | Tanot Mata Temple | Sam Sand Dunes |
| Desert Museum | Akal Wood Fossil Park | Ramdevra Temple | Serai Desert Camp |
| Heritage Museum | Windmill Park | Laxminath Temple | Royal Desert Camp |
| Fort Palace Museum | | | Indo-Pak Border |
| Jaisalmer Folklore Museum | | | Khuri Sand Dunes |
| | | | |
Jaisalmer is also famous as the city multiple Jain historical artefacts and buildings. The Jain architecture can be found in abundance in the various temples and palaces here.
Adventure Activities in Jaisalmer
You can add the fun and thrill elements to your Jaisalmer tour with the various adventure activities available for tourists here. Several desert camps here offer adventure activities such as parasailing, paramotoring, quad biking, dune bashing and many more.
The advantage of travelling to a desert city gives you an opportunity to explore the desert's flora and fauna with pleasant sunrise or sunset experience on camel rides. You can also spend your nights in desert camps by the side of an oasis which offers you various cultural activities, or you can also go for a jeep safari or camel safari and explore the deserts at their best.
Add more thrill to your holiday tour. Book a Taxi in Jaisalmer with JCR Cabs.
Enjoying the Lavish Desert Cuisine
One of the best things about the Golden city of Jaisalmer is its lavish cuisine. People visiting Jaisalmer love it for the food here. The local cuisine includes summer crops such as Ker Sangri, Lauki, Mirchi ka Kutta, etc. Daal Baati is one of the most loved Rajasthani Meal worldwide.
Sweets of Jaisalmer, such as Maava, haluva, Maawe ki Kachori, Choorma, Besam ki Chakki, etc., are also popular throughout India.
Studying the History through pieces of evidence
Jaisalmer is a city of historical importance, from both political and religious perspective. The city is enriched with buildings and temples that showcase the history and culture of Jainism and Jain architecture. The glory of various monuments, palaces, cenotaphs and houses built between the 12th to 15th century offers an insight into the rich cultural heritage of Jaisalmer. Several pilgrimage centres are situated in Jaisalmer, including the Paraswanath Temple, Chandraprabhu Temple, Shantinath Temple, Lodhruva etc.
The city is also full of monuments with important historical events in the political scenario of Rajasthan. Some of the memorials include the War Museum, Tanot Mata Temple, Jaisalmer Government Museum, Longewala War Memorial, etc.
Shopping in Jaisalmer
The best thing about travelling to such a unique place is collecting souvenirs for home. The markets here are loaded with cultural artefacts and traditional things such as costumes, ornaments, showpieces made up of wood, carpets, shawls, fossil stones, leather products, and many more. The Top 6 popular market zones of Jaisalmer are the following:
Sadar Bazar
Bhatia Bazar
Pansari Bazar
Sonaronki Baas
Seema Gram
Manak Chowk
Another advantage of visiting these marketplaces is the opportunity of getting face to face with the local hawkers and street vendors, observing their way of life and livelihoods.
Jaisalmer, also called the Golden City, is one of India's most significant tourist spots. It faces more rush on the tourism perspective during the winters and monsoons, as it is unbearable hot during the summers. However, visitors keep coming in throughout the year. A holiday tour in Jaisalmer offers a rich cultural experience loaded with historical, traditional, and political values.
Make your Holidays Unforgettable. Book a Cab or a taxi in Jaisalmer with JCR Cabs today.