The 10 Best Rooftop Cafes of Udaipur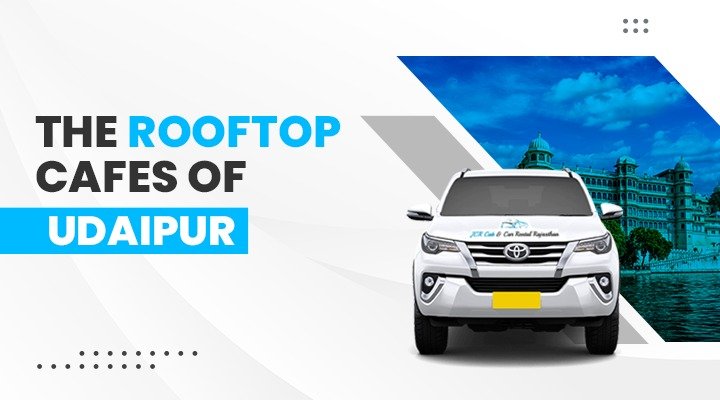 Udaipur, the "City of Lakes," is renowned for its regal architecture, serene waters, and vibrant culture. Amidst this picturesque setting, a culinary renaissance has taken place, with a slew of charming rooftop cafes offering not only delectable cuisine but also panoramic vistas that take your dining experience to new heights. Join us on a gastronomic journey as we unveil the 10 best rooftop cafes in Udaipur, each offering a unique blend of flavors, ambiance, and awe-inspiring views. Visit Udaipur with Car rental in Udaipur.
Ambrai – A Regal Feast for the Senses
Perched on the banks of Lake Pichola, Ambrai captures the essence of Udaipur's grandeur. 
With the City Palace and Jag Mandir forming the backdrop, this rooftop gem enchants with its regal aura and sumptuous Rajasthani fare. 
As you savor traditional delicacies, the shimmering waters and illuminated palaces cast a spell of enchantment.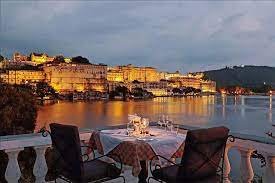 Read More: THE LAKE CITY OF RAJASTHAN
Jheel's Rooftop Restaurant –  A Lakeside Symphony
Nestled by Fateh Sagar Lake, Jheel's Rooftop Restaurant harmonizes culinary excellence with lakeside tranquility. 
As you relish a diverse menu of Indian and global dishes, the reflections of azure waters and the Aravalli Mountains create a serene symphony that soothes the soul.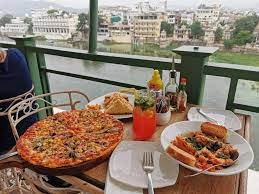 Upre by 1559 AD – A Gourmet Oasis
Upre's panoramic view from its rooftop reveals the Old City's splendor and Lake Pichola's shimmer. 
Known for its fusion menu and crafted cocktails, Upre elevates dining to an art form. The charming decor and breathtaking vista make it a true haven for culinary enthusiasts. Explore one day sightseeing in Udaipur.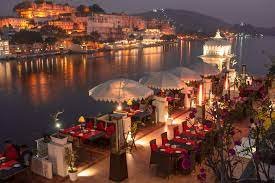 Sunset Terrace – Where Dreams Meet the Horizon
True to its name, Sunset Terrace offers an unobstructed view of the sun bidding adieu to Lake Pichola. 
The intimate ambiance, accompanied by delectable bites and soul-stirring music, creates an unparalleled dining experience that evokes romance and serenity.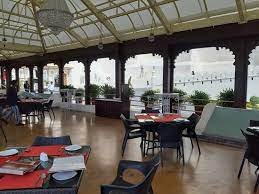 Raas Leela – An Oasis of Calmness
Raas Leela's rooftop captures the serenity of Lake Pichola, promising a sanctuary away from the city's hustle. 
Known for its vegetarian delights, this cafe invites you to savor exquisite flavors while being serenaded by the gentle lapping of waves.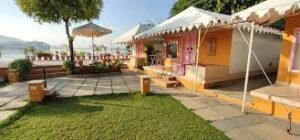 Savage Garden – Where Creativity Blossoms
Nestled within the city's artistic heart, Savage Garden boasts a bohemian-chic ambiance. From handcrafted cocktails to global cuisine, every dish is an artful creation. 
The sprawling view of the Jagdish Temple and the cityscape adds to its undeniable charm.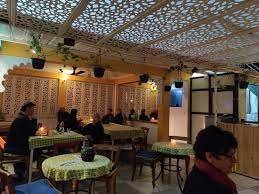 Jaiwana Haveli Roofhtop Restaurant – Timeless Elegance
Balancing tradition and modernity, Jaiwana Haveli Rooftop Restaurant is a haven for those seeking authenticity. 
With the backdrop of the City Palace and a menu featuring Rajasthani classics, it's a place where history intertwines with culinary pleasures. Hire tempo traveller in Udaipur to Explore Jaiwana Haveli Restaurant.
Millets of Mewar – A Healthy Indulgence
For health-conscious foodies, Millets of Mewar is a revelation. Its rooftop not only offers panoramic lake views but also serves wholesome, organic dishes prepared with locally sourced ingredients. 
It's a delightful escape that nourishes both body and soul.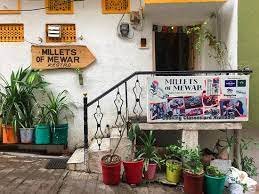 Café Edelweiss – A Slice of Europe in Udaipur
Transporting you to a European retreat, Café Edelweiss enchants with its charming ambiance and delectable European and Indian fusion fare. 
The rooftop's intimate setting, surrounded by vibrant flowers, is a true escape for a romantic evening.
Tribute – An Ode to Culinary Craftsmanship
Tribute Rooftop Lounge pays homage to the city's rich heritage while offering a contemporary twist. 
As you sip on creative cocktails and savor global cuisine, the view of Lake Pichola and the city's monuments is a fitting tribute to Udaipur's timeless allure.
Read More: Make Beautiful Memories in the City of Lakes Udaipur
A Culinary Odyssey Awaits
Udaipur's rooftop cafes are not just places to dine; they are windows to a world of flavors and beauty. From regal palaces to serene lakes, each rooftop offers a unique perspective of this enchanting city. Whether you're seeking a romantic rendezvous or a soulful retreat, these cafes promise not just a meal but a sensory journey that elevates dining to an art form. So, indulge your palate and treat your senses to a truly unforgettable experience at Udaipur's top 10 rooftop cafes.
JCR Car Rental Service in Udaipur
In the embrace of Udaipur's timeless charm, JCR Car Rental Service becomes more than just a means of transportation; it becomes your key to unlocking the city's magic. With their commitment to quality, convenience, and customer satisfaction, JCR Car Rental Service transforms your Udaipur exploration into an unforgettable journey, allowing you to traverse the past and present with comfort and style. So, buckle up, embark on an adventure, and let JCR Car Rental Service be your guide to discovering the city of Udaipur like never before.