Top 7 Adventure Activities To Do in Jaipur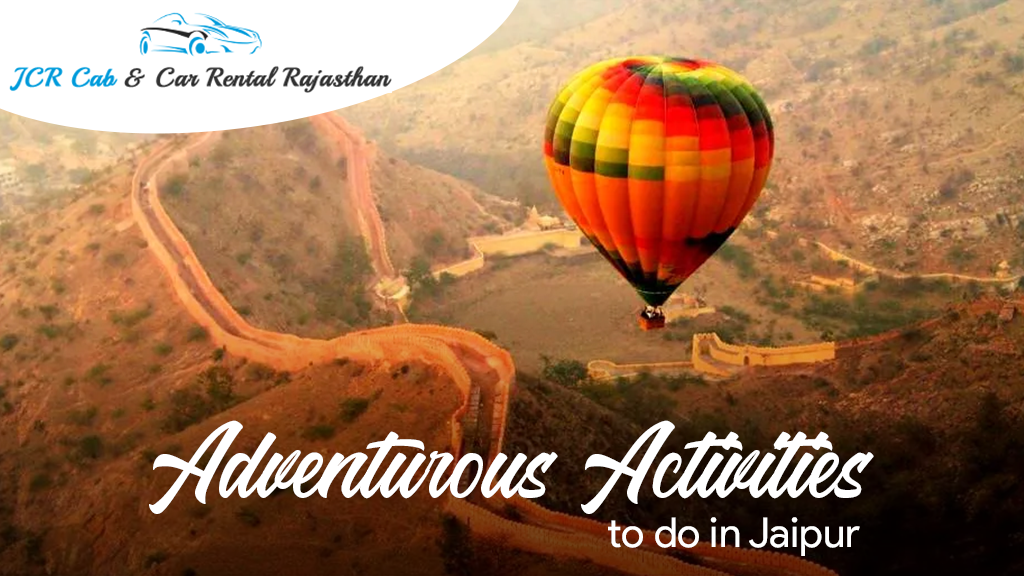 A trip to Rajasthan is like a once-in-a-lifetime opportunity, and why should it not be? After all, you are visiting the largest state of the country. There are plenty of cities in the state famous for different types of food, sites, and lifestyle. But one that tops the list of everything in Jaipur. Commonly known as the "Pink City," it is the capital of Rajasthan that offers cosmopolitan life. 
Jaipur belongs to the three towns of the Golden Triangle of tourism and is a major tourist destination in India. From food to clothes to historical sites, it has all the things of an ideal travel destination. Almost everyone thinks that it is just a historic town and is unsuitable for adventurers and offbeat travelers. But this is not true at all.
There are many adventure things to do in Jaipur that you can indulge in and get the most out of your trip. If you plan to travel to Jaipur and think about where you can enjoy the most, stick to this article to learn about the best adventurous thing you can do in the town. 
Adventure activities to do in Jaipur
Zorbing
If you are unfamiliar with the word Zorbing, don't worry; this is not rocket science but an enjoyable sport. This is something abstract which you can't imagine doing in Jaipur, but it is available in the pink town. It is a mesmerizing playful activity that includes an Orb made from plastic, and you will be placed inside it and start gliding on a gentle slope that is not too sharp. The best part is that it is available for both kids and adults.
Place: The Timber Adventure, near Ajmer road.
ATV Ride
If you are heading to Jaipur for an adventure, then this will be the most exciting activity you can do. We saw in movies and TV shows how adrenaline-rushing this activity is. From our childhood to adulthood, we, once in our life, want to ride these small yet powerful machines, and the pink city is the place to do it. These All-Terrain-Vehicles are ready to take you to the roughest paths of the town.
Place: Moto Sports Park, Achrol.
Rifle Shooting
This is something that is specially designed for those people who want some extreme adventure. And what is better than a rifle shooting that too in a professional shooting range. Here you will get the thrilling experience of using 10-meter AirRifle and Pistols. If you are fascinated by the arms and ammunition, then Jaipur is the paradise for you to fulfill your childhood dream.
Place: Rifle Shooting Academy, Vaishali Nagar.
Hot Air Balloon Ride
If you are on a short trip to Jaipur, then nothing will be more adventurous than a balloon trip in the sky of the pink city to explore its beauty and nearby tiny hills. This is the most exciting activity you can do not only in Jaipur but in your whole life; after all, we don't get an opportunity to explore the sky unless you are a pilot, kidding. This is something that you will never regret in your life unless you are an Acrophobic.
Place: Kukas.
Treehouse Stay
Yeah! It is true and not fiction. What you have seen in cartoons is a real thing here. This is undoubtedly one of the best adventure places in Jaipur that you must experience. In the land of monuments and palaces, there are also a variety of things to do, and a treehouse stay is one of them. In the house, you will enjoy the taste of Glamping, i.e., camping+glamour. Yes, even if it is a treehouse, you will get all the amenities to enjoy your stay to its fullest.
Place: Nature Farms.
Jungle Safari
Although Rajasthan is an arid land, there are a few places where you can enjoy the mesmerizing experience of both flora and fauna. And when you are traveling to a large state like Rajasthan, it is obvious to spot beautiful wild animals like Elephants, Leopards, Snakes, Peacocks, etc. To experience the wilderness more closely, you need to visit Amer, a town that comes under the Jaipur administration and is the perfect place for your jungle safari.
Place: Amer, Jaipur
Jaipur Cycling Tour
Cycling is among the most enjoyable and playable things to do in Jaipur. It is also the best way to learn about the culture and traditions of Jaipur more closely. While cycling, you will not only see the beauty of the town, but you can also interact with the locals to get more information about the hidden gems of Jaipur.
Place: Ashok Nagar.
Those are the best things you can do for adventure in Jaipur. Most tourists who visit the pink city are not familiar with these places and only see historical sites and architectural monuments. But if you want to enjoy offbeat activities, then this is the right place. These activities will be your best bet.