Bapu Bazar, Jaipur: Best Shopping Landmark in Jaipur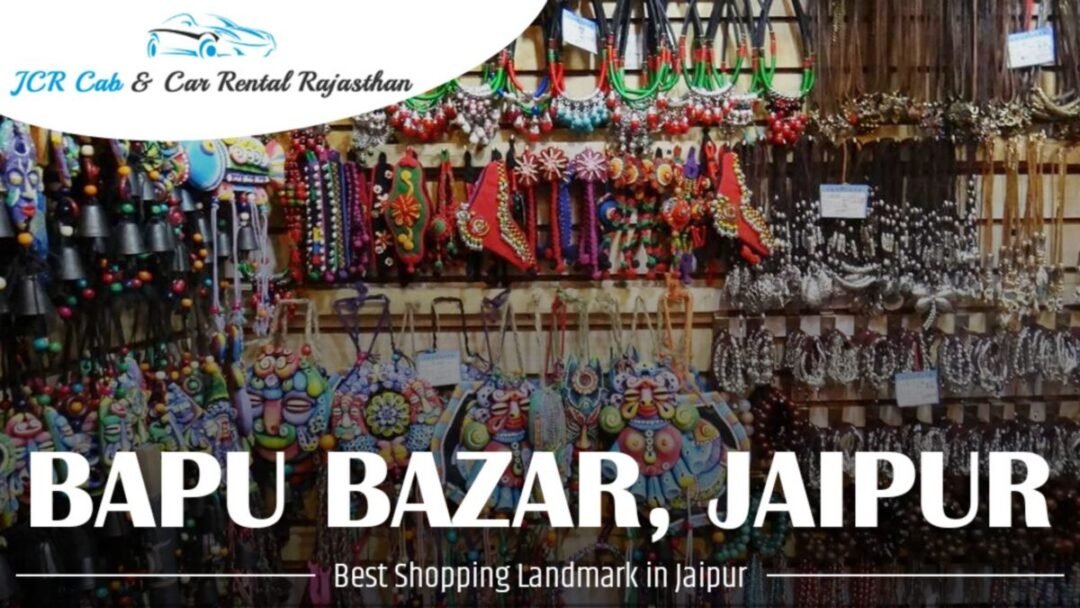 Jaipur is the capital of Rajasthan, and it is known for its royalty, culture, and tradition. Commonly known as the 'Pink City', Jaipur is surrounded by various lively shops and markets, out of which Bapu Bazar is the most famous one.
Bapu Bazar is located right in the heart of Jaipur City, between the Sanganeri Gate and the New Gate of the Pink City; this market also resembles the pink color of historical and royal Pink City. You can find traditional outfits to handicrafts to antiques, brass works, precious stones, textiles, and decorative items in this market.
The Bapu Bazar is famous among local people as well as tourists for the variety of products it offers and its energy which makes it one of the favorite shopping destinations of people.
Also Read – Albert Hall Museum, Jaipur: Its History, Architecture, Things to do, Entry Fee and Timings
Important Things You Must Know About Bapu Bazar
It is a one-stop destination for all the Jaipuri items as you can find everything in this single market at a reasonable price. If you're looking for a wholesale market for textiles, you can buy it from this market.
This lively market is also famous for Mojari, the footwear made from camel skin. In addition, you can find the traditional Rajasthani lehenga-choli, Bandhej salwar suits, sculptures and figurines made from marble and sandalwood, hand-crafted home decor gifts & paintings, conventional blocks, printed bedspreads, cushion covers, fabrics, and a lot more.
Things to Buy From the Market
Mojaris: Mojari footwear, commonly known as Jaipuri juttis, are the major attraction of the market. The juttis are made from camel skin and are elegantly embroidered in vibrant colors and traditional designs. Both men and women can buy them at affordable prices. Also, there are leather bags, shoes, and wallets, which are a little on the expensive side.
Artificial Jewellery: The street shops of Bapu Bazar are loaded with artificial jewelry, including ethnic neckpieces, chic earrings, anklets, and bangles made out of colorful silk threads. You can also find Lac bangles which are made in mud kilns and furnaces from scratch.
Clothing: If you're in Bapu Bazar, don't forget to buy traditional Bandhej or tie and dye sarees from the market. The pattern for Bandhej ranges from lehariya to sanganeri prints to batik prints. Apart from the vibrant and intricate embroideries on dupattas and sarees, you can find the mirror and gota-patti work on them.
Jaipuri Quilts: Jaipuri Rajai is made of a special type of fine cotton fabric. It is lightweight yet warm and durable. Following the years' old handweaving techniques, the quilts are made super soft and designed with Blockprints.
The Jaipur quilts became famous after Maharaja Sawai Jai Singh II brought the quiltmakers to Jaipur from around the state and introduced the craft in the Pink City. The quiltmakers are called mansuris in the local dialect.
Handicrafts and Decorative Pieces: There are many tiny souvenir shops spread across the market, which are filled with artifacts, keychains, pen stands, accessories with mirror work.
Puppets: Puppet shows are very famous in Rajasthani tradition. You can find many shops that sell handmade puppets in the market. These puppets are cute, soft, and vibrant in color and make good gifts for friends and family.
Must Read About – Top Things to do While Visiting Jaipur
Food at Bapu Bazar
After shopping your heart out, you can have snacks and eat everything you love from plenty of options. The food scenes of Bapu Bazar are quite interesting. You can find several chat stores, Pani puri stalls, and other refreshment stalls like lassi, juice, etc. Falooda Kulfi is another local delicacy, which is a traditional mix of rose syrup, combined with vermicelli and sweet basil seeds with milk. It is served with the ice cream of your choice. We recommend tasting them all.
Bapu Bazar, Jaipur Timings
Bapu Bazar remains open on all days of the week between 11:00 AM to 10:00 PM. There is no entry fee; you can go and shop all day.
You can visit the market at any time of the year; however, the winter months between November to March are favorable due to the cool temperatures during the day. Summers in Rajasthan are really hot, and it becomes difficult to walk around and shop during the day. Although, you can visit in the evenings.
The Last Word
If you're planning to visit Bapu Bazar Jaipur, Rajasthan, you can hire a cab or book a taxi with us, and we'll take care of the rest.