Albert Hall Museum Jaipur: Everything You Need to Know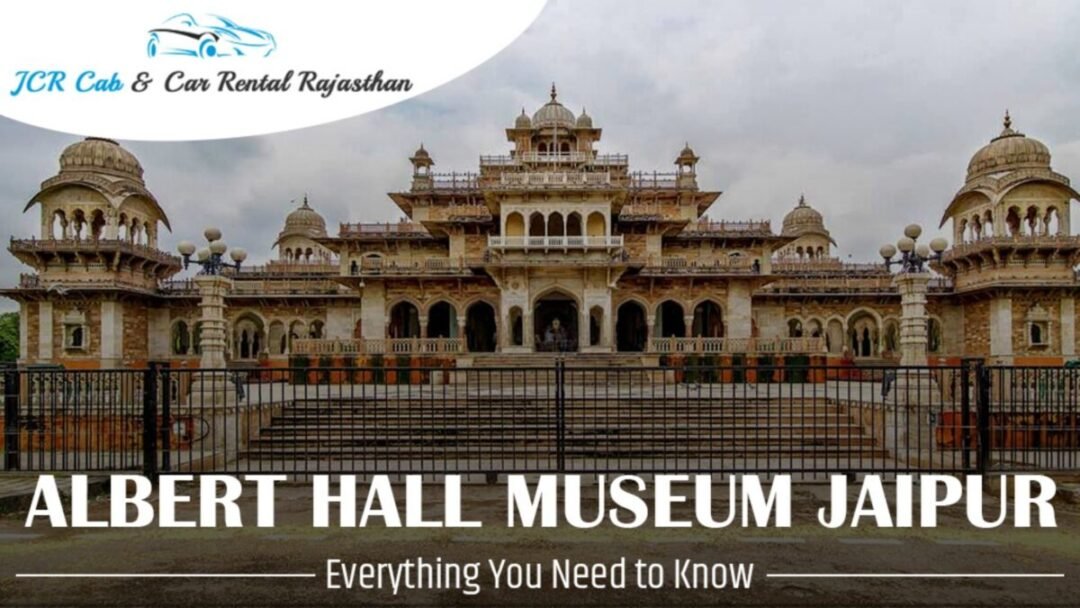 Albert Hall Museum is the oldest museum in the state of Rajasthan. It is currently operated by the Department of Archeology of Rajasthan. It is situated in the Ram Niwas Garden of Jaipur.
Famous author Rudyard Kipling has also visited this museum in the past. The numerous lights in the night are also a treat to watch.
It has many weapons in several galleries, which include weapons, pottery, ancient furniture, clay art, and much more.
Vessels from the Mahabharat era are also there in the museums. Persian Hukkah, ancient anklets, toilet box, compass, ancient water vessels are also there for visitors to see.
History of Albert Hall Museum Jaipur
This museum is named after Albert Edward, who was a prince of Wales. He was a good friend of King Ram Singh. Initially, the king built a hall, and later successor of Ram Singh, King Madho Singh II, converted it into a museum.
The idea of a museum came from Dr. Thomas Hendley, and it showed Indian art at the local level. Hendley wrote in an old record that there were quartes million people visiting the museum per year. It was built by Sir Samuel Swinton Jacob in 1876.
Albert Hall Museum Ticket Price
The tickets are only available at the premises. Here are the complete price details for tourists at Albert Hall Museum for the day.
Indian Citizens: 40 INR per person
Indian Students: 20 INR per person
Foreign Citizens: 300 INR per person
Foreign Students: 150 INR per person
Here is the complete ticket pricing for the night shift:
Indian Citizens: 100 INR per person
Indian Students: 100 INR per person
Foreign Citizens: 100 INR per person
Foreign Students: 100 INR per person
Also, entry is free for kids below seven years of age. Student groups shall be free entry between 10 AM to 12 AM when they come from the recommendation of the institute.
The audio guide at Albert Hall Museum is priced at 171 INR for foreign visitors and 114 for domestic visitors.
You can also buy composite tickets, which are valid for two days to visit any of the sites from Amber Fort, Nahargarh Fort, Albert Hall, Hawa Mahal, Jantar Mantar, Sisodiya Rani Garden, etc.
Albert Hall Museum Timings
It stays open seven days a week from 9 AM to 5 PM during the day and 7 PM to 9 PM during the night. The best time to visit the museum is October to March.
The architecture of Albert Hall Jaipur
Albert Hall is famous for its architecture. Architecture is a good example of Indo-Saracenic culture. The corridors in the hall have murals from various cultures like European, Egyptian, Greek, Babylonian, Chinese civilizations.
There are 16 galleries in the museum:
Metal Art Gallary
Arms and Armor Gallary
Pottery Gallary
Miniature Painting Gallary
Marble Art Gallary
Sculptures Gallary
International Art Gallary
Clay works Gallary
Ivory Gallary
Jewelry Gallary
Carpet Gallary
Coin Gallary
Woodwork and Furnitures Gallary
Musical Gallary
Garment Gallary
Miscellaneous Gallary
These galleries hold items of historical importance. There is also a section of Gallary of the Month, which shows special and unique items.
Things to Take Care of at Albert Hall Museum
Along with visiting 16 art galleries, you should keep these things in mind while visiting Albert Hall Museum:
It is known as Government Central Museum.
Photography is allowed in the museum.
It remains closed on maintenance days and during the Holi festival.
Maintenance day is the last Tuesday of the month from October to March. It is observed every Monday from April to September.
Museum has a cafeteria, locker room, garden, guides, library, restrooms, etc.
Visit Albert Hall Museum With JCR
You can book a cab in Jaipur with JCR and travel within any part of the city and enjoy sightseeing with our exceptional services. We provide our services in one-way trips and round trips across various states in India like Rajasthan, Himachal, UP, Delhi, Punjab, Haryana, etc.