JODHPUR: A Feast for the Eyes and a Breathtaking City in Rajasthan
Jodhpur, a breathtaking city in Rajasthan, is a feast for the eyes. It is the second-largest city in Rajasthan and one of the precious tourist places brimming with ancient Rajasthani culture. As the capital of the Kingdom of Marwar, it is often called the BLUE CITY because of its blue buildings.
Jodhpur founded by RAO JODHA, a Rajput chief, in 1459. There are many types of sweets and snacks that served there that are particularly popular, including Mirchi Bada, Rabdi Ghewar, Mawa Kachori, and other types of sweets. Besides being a well-known tourist destination due to its many tourist attractions, Mehrangarh Fort is also well-known for its Umaid Bhawan Palace, Jaswant Thada, Clock Tower, and several others.There are many best places to visit in jodhpur, but we've sorted the top places to visit in jodhpur.
So here's a short list of places to visit in Jodhpur:
1. MEHRANGARH FORT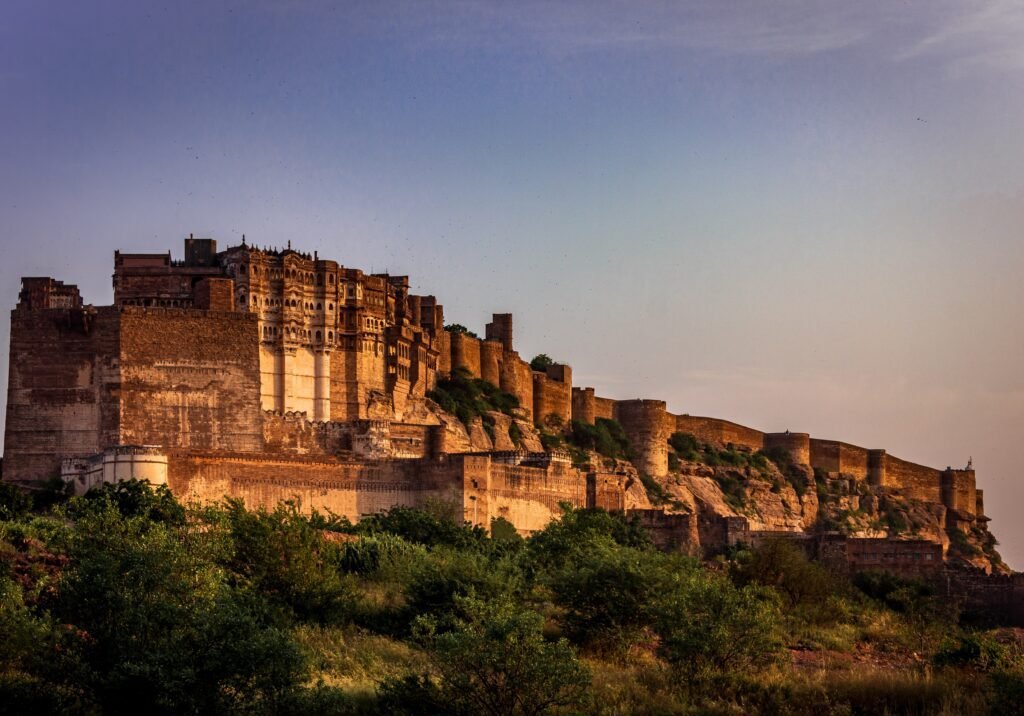 This fort built by Rao Jodha in 1459 and spans over 1200 acres. The magnificent courtyards and intricate carvings of this fort are some of the defining features of its interior structure The fort secured by 7 gates, including Jai Pol (Victory Gate) built by Maharaja Man Singh. The gates open in different directions of the fort and named as follows:
JAI POL (Gate of Victory)
Within the fort, there are many fascinating decorated places, including Moti Mahal (Pearl Palace), Phool Mahal (Flower Palace), Sheesh Mahal (Mirror Palace), Sileh Khana, and Daulat Khana. The museum houses antiques such as Palanquins, Howdahs, Royal Cradles, Miniatures, Musical Instruments, Furniture, and more. A Chamunda Mataji Temple is also located within the fort, which was a favorite goddess of Maharaja Rao Jodha. The fort also encompasses Rao Jodha Desert Rock Park, which spans 72 hectares and consists of ecologically restored desert and arid land vegetation, making it one of the best places to visit in Jodhpur.
Timings: 9 am – 5 pm (Mon-Sun) Fees:
International guests: 600 INR
International students: 400 INR
Domestic students (Sr. citizens, students): 50 INR
2. JASWANT THADA
In memory of his father, Maharaja Jaswant Singh, Maharaja Sardar Singh built the Jaswant Thada cenotaph in his honor.This beautiful cenotaph constructed of Makrana Marble, so well-polished that it shines and glows when sunlight reflects on it. The cenotaph's garden includes Carved Gazebos, a Tiered Garden, and a Small Lake. It surrounded by three other cenotaphs. Maharaja Jaswant Singh's cenotaph features portraits of the rulers and maharajas of Jodhpur. The best times to visit are during sunrise or sunset to witness the beautiful sunlight and atmosphere.
Timings: 9:30 am – 5 pm Fees:
International guests: 50 INR
Domestic guests: 30 INR
3. UMAID BHAWAN PALACE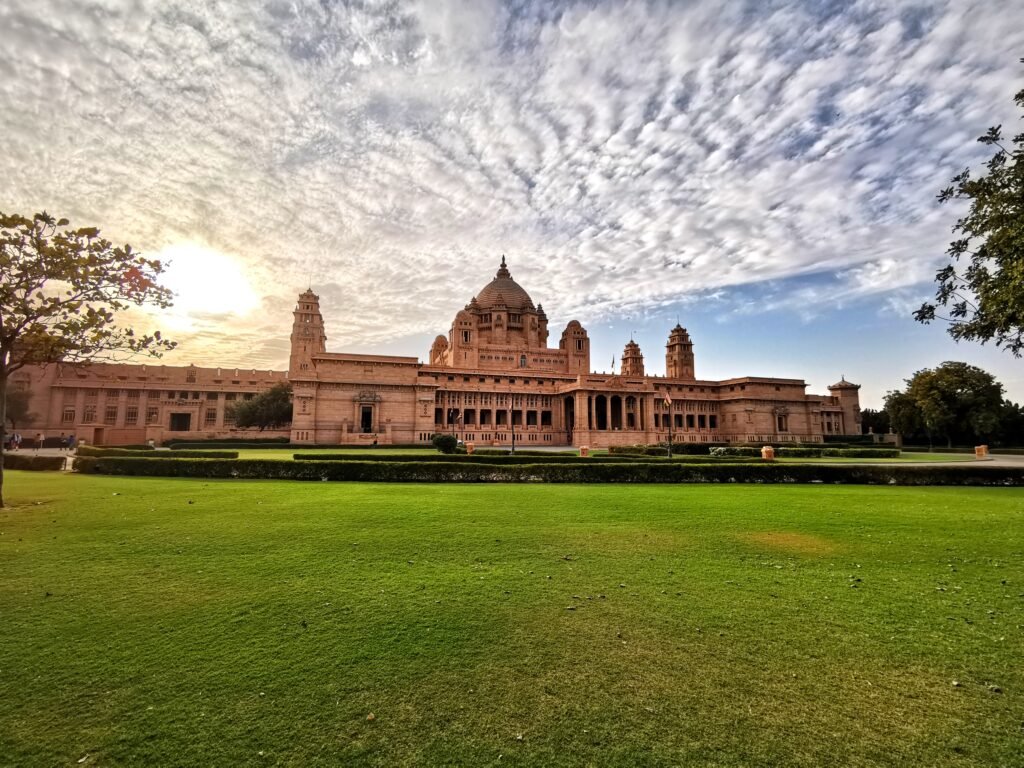 Umaid Bhawan Palace is one of the largest private residences, spanning 26 acres. Exciting, a part of this palace is managed by the Taj Hotel. It named after Maharaja Umaid Singh and boasts 347 rooms, several courtyards, large banquet halls, Throne Chambers, Private Meeting Halls, Darbar Halls for local people's meetings, Private Dining Halls, Ballrooms, a Library, an Indoor Swimming Pool and Spa, a Billiards Room, four tennis courts, two marble squash courts, and long passages. The palace also houses a museum with historical monuments, antiques, and more. It was constructed with Dun-coloured (golden-yellowish) stone and Makrana marble. The interior woodwork is crafted from Burmese teak wood. A noteworthy aspect is that the Royal Family of Jodhpur still resides here, and the palace offers a breathtaking view of the city, especially in the evening.
Timing: 9 am – 5 pm
4.THE OLD CITY BAZAR
Apart from its tourist places, Jodhpur is renowned for its Rajasthani culture. From shopping for earrings to lehengas, juttis (Indian footwear), chudas (bangles), and handicrafts, there's a diverse variety available at reasonable prices. Bargaining is also easy here. The Clock Tower, also known as Ghanta Ghar, is an ancient clock tower standing right in the middle of Sardar Market, the heart of the shopping district. You can enjoy local delicacies such as kachoris, Ghevar, and Makhania lassi while you shop.
5. MANDORE GARDEN- 
Mandore Garden wans capital of Jodhpur,, during Royal Kings before Maharaja Rao Jodha changed to Mehrangarh Fort. It is famous for its Cenotaphs, Historical Monuments, Museums also theres mesmerizing High Rock terraces. There are beautiful sculptures Carved on Cenotaphs. This is definitely a picnic spot with a Hideen lake in it.
TIME- 8am-8pm
FEES- Domestic Visitor- 20 INR
Here was the list of top places to visit in Jodhpur, as well as Things to do in Jodhpur. This are the best places to visit in Jodhpur within 2 days. When you visit Jodhpur, make sure to do more than explore; it's about the journey itself. Our cab services in Jodhour ensure that your journey is convenient and comfortable, making sure you don't miss anything in the Blue City.