Mehrangarh Fort, Jodhpur: Information, History, & Timings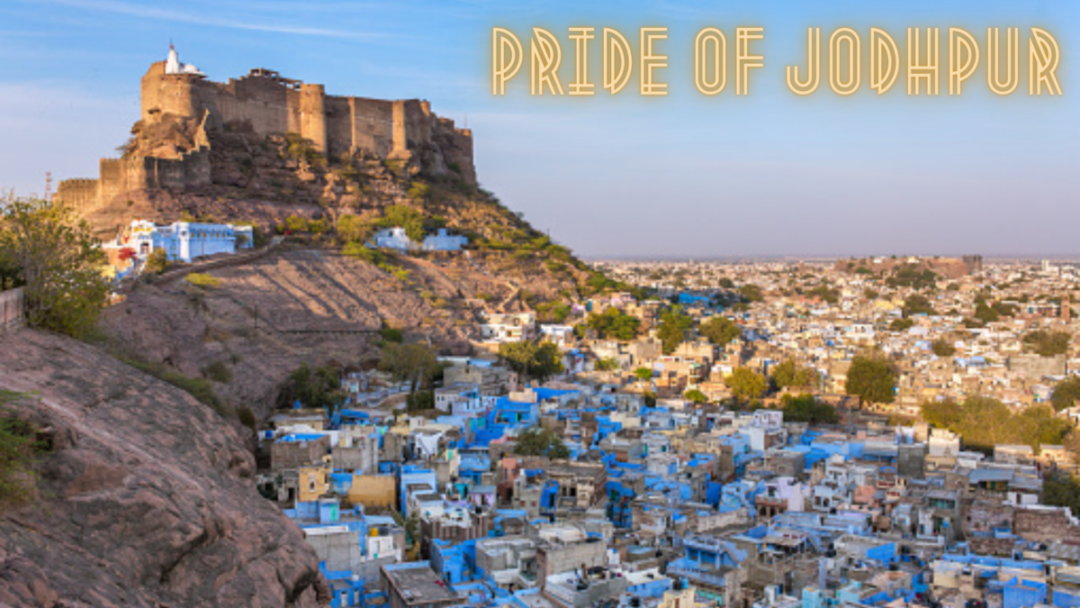 About Mehrangarh Fort, Chamunda Mata Temple:
One of the largest renowned Fort in India, Mehrangarh Fort of Mehran Fort was built by Rao Jodha around the year 1459. It is situated 410 feet above the city grounds, on a hilltop location, on the advice of a saint to the then emperor. The fort is enclosed by thick walls inside which there are several palaces with phenomenal architecture.
A winding road leads to and from the city below.
'Mehrangarh', in Sanskrit stands for 'Mihirgarh', which means city of the Sun God, owing to the fact that Sun God is the chief deity of the Rathore clan.
Mehrangarh is also listed among the largest forts in India. It also houses a temple, Chamunda Mata Temple which is frequently visited by the locals on occasions such as the Navratri Days. It is the most popular Jodhpur sightseeing places, owing to various cultural fests and events held here.
Mehrangarh is also infamous for a human stampede that occurred in the year 2008, which resulted in hundreds of deaths and injuries caused by a false rumour among the gathered devotees.

History of Mehrangarh Fort:
The foundation stones of Mehrangarh Fort were laid by the then emperor Rao Jodha, with the purpose of shifting the Marwar capital from Mandore to the hilltop location. The building of Mehrangarh Fort has an interesting backstory behind it.
The hill on which the fort is built was previously called as 'Bhakurcheeria' owing to the fact that it used to be a home to several species of birds. Locals say that when Mehrangarh Fort was being built, Rao Jodha asked the sole occupant on the hill to move his residence somewhere else. The occupant was a hermit called 'Cheeria Nathji'. He was popular among his followers as the 'lord of birds'. When Rao Jodha requested him to move, he refused. This happened several times. Thoughtfully, Rao Jodha asked for help from a female warrior sage of Charan Caste, Shri Karni Mata of Deshnok. Karni Mata came and commanded Cheeria Nath Ji to move immediately. Upon seeing a superior power, Cheeria Nath Ji left at once but got offended and cursed Rao Jodha saying, "Jodha! May your citadel ever suffer a scarcity of water!" As an attempt to appease him, Rao Jodha built a house and a temple for him in the fort, which stand upright even till date. Some locals believe that Cheeria Nathji later felt bad and rectified his mistake by saying that the scarcity in the kingdom will occur every alternate year.
Seeing the influence of Karni Mata, Jodha invited her to lay down the foundation stone of the Mehrangarh Fort. Today, only two forts remain owned by the Rathore clan, i.e. the Forts of Bikaner and Jodhpur respectively, both of whose foundation stones were laid by Karni Mata.
It is also acknowledged that in order to ensure that the new site for the capital of Marwar proves to be propitious for the kingdom, Jodha buried a man of the 'Meghwal' caste alive into the foundations. It is also said that the man, 'Raja Ram Meghwal' offered his services voluntarily and he was promised that in return, his family would be looked after by the people of Rathore dynasty. Even today, the descendants of Meghwal live in Raj Bagh, also known as Raja Ram Meghwal's Garden.

Things to see at Mehrangarh Fort:
The entry to the Fort is gained through a series of seven gates, some of which are: Jai Pol('the gate of Victory'), Fateh Pol, Dedh Kamgra Pol, Loha Pol, etc. All of these gates have a different story of history related to them. Each of these gates were constructed in memorandum of an important event in the history of Rathore Dynasty.
Within the fort are several brilliantly crafted and decorated palaces. These include, Moti Mahal (Pearl Palace), Phool Mahal (Flower Palace), Sheesha Mahal (Mirror Palace), Sileh Khana and Daulat Khana. The museum houses a collection of palanquins, howdahs, royal cradles, miniatures, musical instruments, costumes, and furniture. The ramparts of the fort house preserved old cannon (including the famous Kilkila), and provided a breath-taking view of the city.
There are various galleries such as: Elephant's Howdas, Palanquins, Daulat Khana, Armoury, Paintings and the Turban Gallery. Each of these galleries are unique and cannot be missed.
There is also a temple in Jodhpur's Mehrangarh Fort known as Chamunda Mata Temple, who is also known as Rao Jodha's favourite goddess.

Things to do at Jodhpur Mehrangarh Fort:
The fort exhibits musicians performing folk music live at the entrance of the fort. There are museums and art galleries. There are exhibitions and craft bazaars to see. And there are various festivals held on fort on every other occasion, be it festivals, national days or annual events. It is best to reach these locations with a taxi service in Jodhpur, however, the markets are best explored on foot.
There are also a few sellers around which sell cultural puppets, traditional slippers, jodhpuri turban(safa), etc.

Things to eat at Mehrangarh Fort:
There is a restaurant in the fort, there is also a food corner that sells packaged food. However, taking food items inside the fort is prohibited.

Mehrangarh Fort Entry Fee:
The entry fees is Rs. 60 for locals and Rs. 400 for foreigners.

Mehrangarh Fort Timings:
| | |
| --- | --- |
| Day | Timing |
| Monday | 8:00 am – 05:00 pm |
| Tuesday | 8:00 am – 05:00 pm |
| Wednesday | 8:00 am – 05:00 pm |
| Thursday | 8:00 am – 05:00 pm |
| Friday | 8:00 am – 05:00 pm |
| Saturday | 8:00 am – 05:00 pm |
| Sunday | 8:00 am – 05:00 pm |
Best Time to Visit Mehrangarh Fort:
Best time to visit Mehrangarh is during one of the cultural fests held in the fort. It is convenient to visit the city during the winter season, as the city experiences scorching heat in the summer season.