Clock Tower Jodhpur | Jodhpur Shopping Market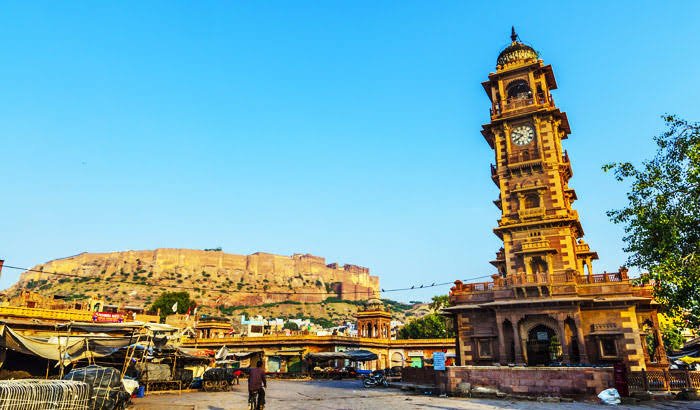 Clock Tower market jodhpur | jodhpur shopping market
Clock Tower Market, GhantaGhar, and Sardar Markets in Jodhpur
Clock Tower Market is one of the most popular places to shop in Jodhpur. Whether you're on the hunt for Rajasthani handicrafts, spices, or the best local food in the city, you're bound to find something here to please you.
The Clock Tower market Jodhpur is located near the Gulab Sagar lake. It's open from 10:00 am to 6:00 pm daily. If you have a camera or just like to take photographs, you'll be glad to know that this place is very safe to explore.
Besides the clock tower In Jodhpur, the Ghanta Ghar Jodhpur is also a popular shopping area in the city. This place is home to various shops and roadside stalls. A lot of things can be bought here, from spices to clothes and jewellery. You can even buy hand-ground spices as souvenirs.
Another interesting item to look for in the market is flavoured tea. During the winter, hot tea is the perfect beverage to drink. Whether you're looking for traditional Indian or western snacks, you'll be sure to find a variety of options. Some of the most famous local delicacies in the city include sweet lassi and shahi samosa.
In addition to these, you can also purchase traditional Rajasthani accessories such as Kamar band, stone bracelets, and safas. For men, embroidered clothes such as kurta-pajamas and dhoti are also available.
While there are many other places in the city to shop, the Sardar Market is considered the best. This place is the heart of the city and it's always packed with tourists and people buying and selling. With a variety of handicrafts, delicious cuisine, and colorful ethnic fabrics, this is the place to go in the city.
Another popular shopping spot in the city is the Tripolia Bazaar. This market is located about four kilometres from the Mehrangarh fort. Many tourists come here to find traditional Rajasthani handicrafts. Also, the market is home to shops that display carpets.
The Clock Tower In Jodhpur is a beautiful landmark in the city. While the tower was initially built by the Maharaja of Jodhpur, it is now an important community center. Visitors can climb the tower and watch the surrounding area. Generally, the tower looks its best when it's lit up with bright lights.
Despite the busy atmosphere, you can still have a pleasant time in the Old Blue City. It's safe and everyone is welcome. However, before you start shooting photos of other people in the market, make sure to ask permission first.
One of the most exciting parts of the market is the street food. The best samosas in the city are served in a place called Indique. They're also known for their Mirchi vada and shahi kachoris.
As a matter of fact, you can even rent a Jodhpur taxi Service to take you to the market. Whether you're planning a trip or just taking a quick visit to Jodhpur, it's recommended to visit the Ghanta Ghar Market Jodhpur and the Clock Tower Market. Both of these areas offer a fun and memorable Jodhpur shopping Market experience.
Book Now For Any City We Available Cab Service In Jodhpur, Taxi In Jodhpur Taxi Service In Jaisalmer, Taxi Service In Jaipur, Taxi Service In Udaipur Visit ghantaghar market jodhpur Must Read Out : POPULAR JODHPUR TOUR PACKAGE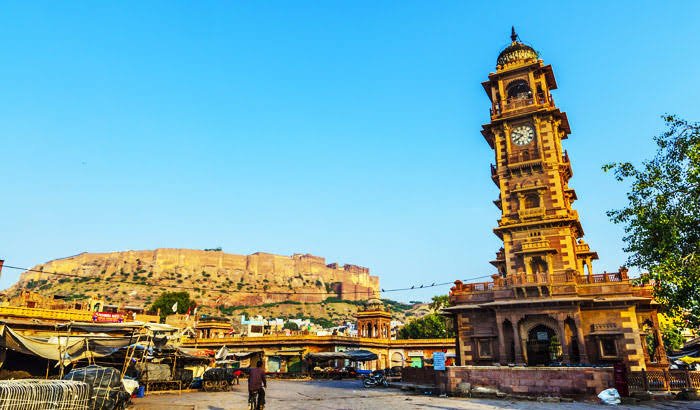 What is Jodhpur Clock Tower Famous For? Clock Tower Jodhpur History
The clock tower in Jodhpur has been famous for a variety of reasons. The Clock Tower Market is a well-known landmark in Jodhpur. The tower was constructed between 1880 and 1911. This beautiful structure offers a wide view of the Mehrangarh Fort.
Visitors can purchase some wonderful products here, including spices, traditional clothes, and handicrafts. It is also a great place to shop for fresh vegetables. You can even visit the local restaurants and have a delicious meal.
It is not just a great tourist attraction, but it is also home to one of the most sacred temples in India. For those of you who are visiting the city, be sure to take a tour of the temple, as well as the surrounding area.
History Of Ghanta Ghar Market Jodhpur
Ghanta Ghar is a landmark in Jodhpur. It is also the largest marketplace in the city. It has been around for two hundred years. The clock tower In Jodhpur was built by the ruler Maharaja Sardar Singh.
One of the best things to do in Jodhpur is to shopping in Ghanta Ghar. You can visit the Jodhpur clock tower and walk around the market. Here you will find all the major items for sale.
Another famous Jodhpur shopping Market spot is the Sardar Market. It is a bazaar that sells handicrafts, textiles and spices. This place is also illuminated at night. People from all walks of life converge here.
The clock tower Market is one of the most important landmarks of Jodhpur. It is located in the center of the city. A three-storey tower with an English style timer has become an important symbol of the city.
The tower has a few interesting features. It is believed to have been built by the same company that manufactured the big ben in London.

Reading Suggestion : Travelling In Jodhpur, UMAID BHAWAN PALACE JODHPUR JODHPUR TOURISM ATTRACTION
Things to Buy at Jodhpur Clock Tower Market
When it comes to shopping places in jodhpur, Jodhpur is a paradise. It has plenty of things to buy, ranging from jewelry to spices. However, it is important to know where to go and what to buy when you are shopping in Jodhpur Market. You can shop for handicrafts, textiles, and souvenirs.
One of the places to visit in Jodhpur is the Ghanta Ghar market Jodhpur. The market is one of the oldest shopping markets in Jodhpur. Located near the main city center, this market is known for its variety of spices, handicrafts, and fabrics. Aside from these, the market also houses a number of food stalls and shops.
Another place to check out in Jodhpur is the Sardar Market. This market is known for its traditional Rajasthani handicrafts, antiques, and art. In addition, it is home to a clock tower. With a simple design, the clock tower Jodhpur enhances the beauty of the entire market.
Other attractions to be seen and explored at the Clock Tower area are the Sarafa Bazaar Jodhpur and the Umaid Bhawan Palace market. Both these markets are popular among tourists and residents. Each market has a separate theme, but they all share some similarities. For example, the Sarafa Bazaar Jodhpur is known for its beautiful home decor pieces. Likewise, the Umaid Bhawan Palace Market is well-known for its fine metal products and ingenious designs.
If you want to buy jewelry, you'll be delighted to know that prices here are reasonable. You can find silver jewelery and semi-precious stones in various forms. Be careful when you are in the market, because the prices can increase if you are a tourist.
what is famous in jodhpur for shopping
One of the other things to buy in Jodhpur is red chillies. Mathania's red chillies are considered to be the best in the country. Red chillies are available in different colors. If you are looking for souvenirs, it is a good idea to buy some red chili powder. These spices are made from fresh red chillis.
You can also find some embroidered women's dresses at the Clock Tower market. Along with spices and handicrafts, you can buy leather items like turbans, suits, and bags. Also, you can purchase brass utensils, mirrors, and jewellery.
Other items to look for in the Clock Tower market are Rajasthani handicrafts, spices, and local food. Buying these items is a great way to experience the culture of Jodhpur.
Whether you are looking for an authentic Rajasthani experience, or just wanting to explore a few places in the state, you'll be pleased with all the options available in this city. During your trip, don't forget to take some time to enjoy the sights, smells, and tastes of this vibrant city. By booking a car or a cabin service, you can easily reach the city.
Those who love to shopping in jodhpur can take advantage of the Jodhpur Clock Tower market, shopping Ghanta Ghar Jodhpur, and the Sardar Market. Each of these places offers a range of unique and exciting options. Visiting these markets is a wonderful way to explore the history, culture, and beauty of the city.
famous market in jodhpur Ghanta Ghar Jodhpur
Clock Tower Jodhpur Timings
| Day | Timing |
| --- | --- |
| Monday | 10:00 am – 6:00 pm |
| Tuesday | 10:00 am – 6:00 pm |
| Wedesday | 10:00 am – 6:00 pm |
| Thursday | 10:00 am – 6:00 pm |
| Friday | 10:00 am – 6:00 pm |
| Saturday | 10:00 am – 6:00 pm |
| Sunday | 10:00 am – 6:00 pm |
Best Places to Visit Near Ghanta Ghar Market Jodhpur
Frequently Asked Questions (FAQs)