DESTINATION WEDDING IN UDAIPUR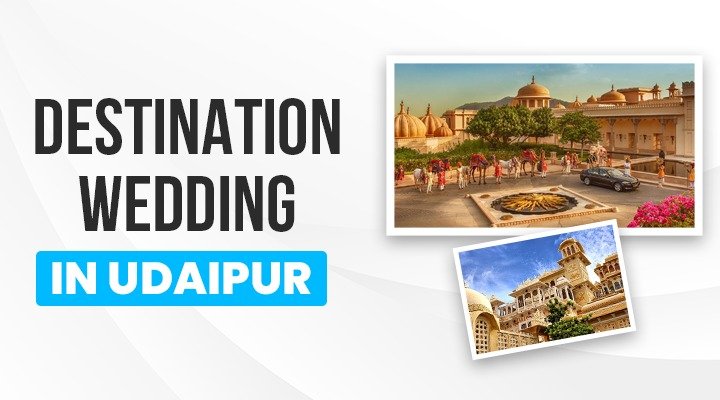 Every love story is unique, and what better way to celebrate the union of two souls than amidst the regal splendor of Udaipur? The "City of Lakes" not only boasts breathtaking landscapes, majestic palaces, and vibrant culture, but also offers an unparalleled setting for a destination wedding that will be etched in your memory forever. Imagine exchanging your vows against the backdrop of shimmering lakes, ancient forts, and opulent palaces – a true fairy tale come to life. Join us as we embark on a journey through the intricacies of planning a destination wedding in Udaipur, where romance, tradition, and opulence converge to create an unforgettable celebration of love.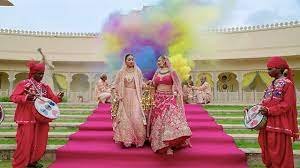 Choosing Udaipur – A Royal Affair
Udaipur's allure as a destination wedding venue is undeniable. 
Nestled amidst the Aravalli Hills, the city exudes an aura of romance and elegance that is second to none. 
With its palatial architecture, serene lakes, and a seamless blend of heritage and modernity, Udaipur sets the stage for an enchanting celebration that will be cherished by both the couple and their guests. Visit Udaipur with Car Rental in Udaipur.
Venues Fit for Royalty
Udaipur boasts a plethora of exquisite venues that are perfect for hosting a regal destination wedding. 
The City Palace, an architectural marvel that reflects the grandeur of Rajasthan's royalty, offers an array of stunning locations within its premises, from the breathtaking Manek Chowk to the ethereal Zenana Mahal. 
The Jag Mandir, seemingly floating on the tranquil waters of Lake Pichola, provides a surreal backdrop for an intimate celebration. 
The Oberoi Udaivilas and Taj Lake Palace, two luxury resorts that redefine opulence, offer a blend of traditional charm and modern comforts, making them ideal for hosting both grand and intimate affairs.
Read More: Make Beautiful Memories in the City of Lakes Udaipur
Traditional Ceremonies with a Royal Twist
A Udaipur wedding is not just a celebration; it's a cultural immersion. Couples can opt for traditional Rajasthani wedding rituals, complete with a grand baraat procession, where the groom arrives atop an adorned elephant or a regal horse. 
The vibrant mehndi and sangeet ceremonies can be infused with local folk music and dance performances, allowing guests to experience the true essence of Rajasthan's heritage.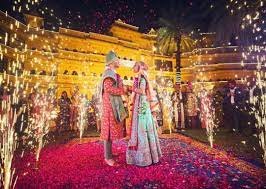 Bespoke Decor and Themes
One of the highlights of a Udaipur destination wedding is the opportunity to create a customized and lavish decor that matches your vision. 
Whether it's a traditional Rajasthani theme with vibrant colors, intricate patterns, and ornate details, or a modern and elegant setup with contemporary elements, Udaipur's skilled wedding planners and decorators can bring your dreams to life. 
Picture marigold-adorned mandaps, shimmering chandeliers, and intricate mirror work, all set against the backdrop of a palace or a serene lakeside.
Culinary Delights: A Feast Fit for Royals
The cuisine of Udaipur is a delectable journey that mirrors the city's rich history. 
From traditional Rajasthani delicacies to international gourmet fare, the city's renowned chefs can curate a culinary experience that delights the palate and leaves a lasting impression. 
Guests can savor the flavors of dal baati churma, gatte ki sabzi, and luscious kachoris, all prepared with authentic local ingredients.
Entertainment and Extravaganza
Udaipur's vibrant cultural heritage provides ample opportunities for unique entertainment options. 
Folk musicians and dancers can regale guests with performances that showcase the state's traditional arts. 
Fireworks displays against the backdrop of the city's lakes and palaces add a touch of magic to the festivities, creating an atmosphere of grandeur and celebration.
Unforgettable Experiences
While in Udaipur, couples and their guests can explore the city's attractions and engage in activities that add a touch of adventure and romance to the celebration. 
Boat cruises on Lake Pichola, guided tours of historic forts, and visits to local markets for souvenir shopping are just a few of the unforgettable experiences that Udaipur offers.
A Love Story for the Ages
A destination wedding in Udaipur is not just an event; it's a celebration of love and culture, an immersion into the regal heritage of Rajasthan. 
With its palatial venues, bespoke decor, sumptuous cuisine, and vibrant traditions, Udaipur weaves together a tapestry of memories that will be treasured for a lifetime. 
As the sun sets over the glistening lakes and the city's palaces glow under the night sky, the magic of Udaipur transforms every moment into a chapter of an epic love story. Explore Udaipur one day Local sightseeing.
If you're seeking a wedding that transcends ordinary into extraordinary, Udaipur awaits, ready to create a dream-like canvas for your eternal union.
Read More: A THREE-DAY ITINERARY TO UDAIPUR
To explore Udaipur you can hire car rentals. JCR CAB as the name itself says it all provides luxurious car rentals to give their customers a Royalty feel. JCR CAB is the magical solution to all your travelling desires. So, if you are looking for Taxi Service in Udaipur then JCR Cab will leave no efforts to make your travelling experience memorable.