Famous Places to Visit in Jodhpur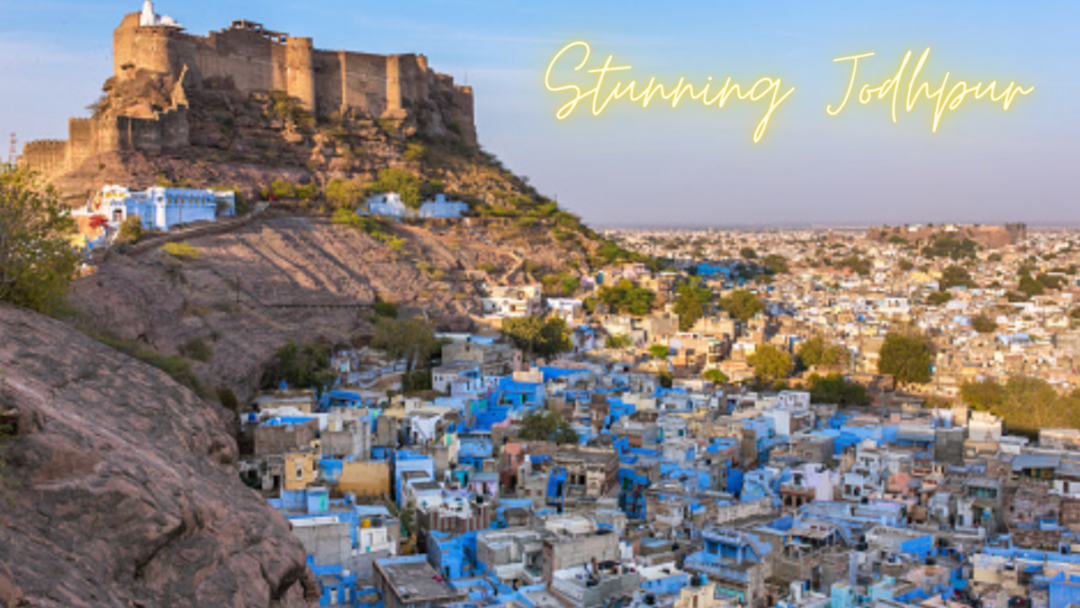 Jodhpur, the city of Sun God, is popularly called as 'Suncity' since the ancient times. Jodhpur is the land of folk art and tradition. Rich in culture, cuisine and history, Jodhpur is one of the most favourite Indian Cities for tourists all across the world.
Jodhpur's richness in every sphere attracts millions of tourists every year. Such charisma has brought Jodhpur in the 2020 Travel List of New York Times, on the 16th position, making it the only Indian City to appear in the entire list of 100 tourist destinations all across the world.
Jodhpur is also called as the city of Sun God, hailed as 'Sun City'. All the houses inside the city area are mostly white-washed in Blue colour, which is why Jodhpur is also called 'Blue City'. The local consider this a thing of their pride and culture and retain the blue whitewashing of their houses, which is renewed every few years.
Jodhpur is one of those cities of Marwar that retains its culture heritage and traditional symbols in form of dressing, food and lifestyle. Various locations in Jodhpur like Mehrangarh Fort, Umaid Palace, Jaswant Thada, Ghantaghar and Mandore portray great cultural heritage.
Folk Music and Dance in an open stage under the night starry sky inside a grand Fort… Who doesn't like such landscaping visual? Are you planning to spend an evening in Jodhpur? Here we have listed all the unmissable tourism spots in Jodhpur:
Famous Places to Visit in Jodhpur
Jodhpur is famous for historical buildings and monuments dating back as old as the period of Ramayana. To travel in the city, it is vest to hire a Cab service in Jodhpur as soon as you land here. Some of the popular tourist destinations in Jodhpur are:
Mehrangarh Fort
Located in the centre of the city, this Fort was built by Rao Jodha who is also the founder of Jodhpur. This is one of the most popular forts in India and houses various beautiful palace inside it.
Umaid Bhawan Palace Hotel & Museum
A part of the Royal Palace building, this hotel became one of the most famous tourist attractions after it was voted Best Hotel in the world, while the other part remains to be a museum exhibiting the history of Marwas and Jodhpur as well as the Royal Family.
Jaswant Thada
This royal cenotaph was built close to the fort by Maharaja Jaswant Singh Ji, in White Marble after being inspired by Taj Mahal in Agra.
Ghanta Ghar
An ancient clock tower stands tall, preserved in the middle of the city, believed to be the sole source for tracking time for locals in earlier times. The top of this tower gives an amazing panorama of the city.
Mandore Garden & Ruins
Mandore Garden, also known as the house of Rani Mandodari, the wife of Ravana is a garden full of beautiful plants, flowers, Hindu temples and multiple cenotaphs in the premises.
Kaylana Lake
A man-made lake on the city borders, this lake is the best sunset point in the city. It also serves as a water source for drinking water for Jodhpur citizens.
Balsamand Lake & Palace
This one is an exotic location on the outbounds of the city. It makes a great place for candle light dinners by the lake giving a nice view of the Fort.
Toorji Ka Jhalra
Also known as, the step-well is a hidden gem inside the city. It depicts lifestyle and culture of the people living here during Maharaja's reign.
Besides these popular monuments, there are a variety of temples in Jodhpur, which attract the attention of tourists due to the stories and anecdotes that are attached with them.
Famous Shopping Places in Jodhpur
Local Markets like Nai Sarak Ghantaghar Market, Stepwell Square, Sojati Gate Market, Sardar Market, Tripoliya Bazar, Kapra Bazar and Sarrafa Bazar, etc., are very famous in Jodhpur and are definitely visited by each tourist here. There is a small market near every tourist spot and each one has some unique item of its own. Hence, each market is worth a visit.
Things to Buy in Jodhpur
You can find a range of shopping items such as local and traditional shoes, dresses, textiles, garments, puppets, silver and copper ornaments, etc. In Sardar Bazar, you can find spies of different variety. At the Step-well Square, you can try various tea leaves and saffron varieties which are sold widely.
In Jodhpuri markets, you can find various Marwari traditional symbols and souvenirs such as colorful garments, puppets, handicrafts, pottery and wooden items. Bandhani and Lehriya fabrics and Gota-Patti designs are the most popular here. 
Famous Food you must try in Jodhpur
While travelling around Jodhpur here are a few things you must try — Lassi at Mishrilal Hotel, Mirchi Bada at Shahi Samosa, Gulaab Jamun at Chaturbhuj, Chutiye Ki Chakki at Mandore and Chaat at Tripoliya Bazar, as well as Jalebi, Imarty and Motichoor Laddu at Mohanji Sweets. These are some unforgettable tasty dishes in Jodhpur, which you might not find anywhere else in the world.
Marwari Cuisine including the likes of Daal Baati Churma, Ghewar, Kachori, Ker Sangri, Gatte ki Sabji, etc. are pure Marwari delights made with ghee, which are famous in Jodhpur. Your tour to Jodhpur is incomplete without a taste of these Marwari delicacies. If you are a fan of non-veg food, don't leave without trying Laal Maas here.
Top Hotels in Jodhpur
Radisson, RAAS, TAJ Hari, Fern Residency, Park Plaza, Lords Inn, Rohett House, Bijolai Palace, Chandra Imperia, Kasturi Orchid, Nirali Dhani, Pal Haveli, Badri Palace, Lariya Resort, etc., are some popular hotels and Resorts in Jodhpur.

Book Now : Taxi Service In Jodhpur, Taxi Service In Jaisalmer,  Taxi service In Udaipur, taxi service In Jaipur, Tempo Traveller Hire In Jaipur, Car Hire In Jaipur, Cab Service In Jodhpur, Taxi Service In Udaipur
holiday packages in India
Travel Agency In Usa, And Indian Tour Operator,  India Tour Package, Golden Triangle In India ,Travel Agency In India ,Travel Companies In India.