Make your Weekends Special in Mount Abu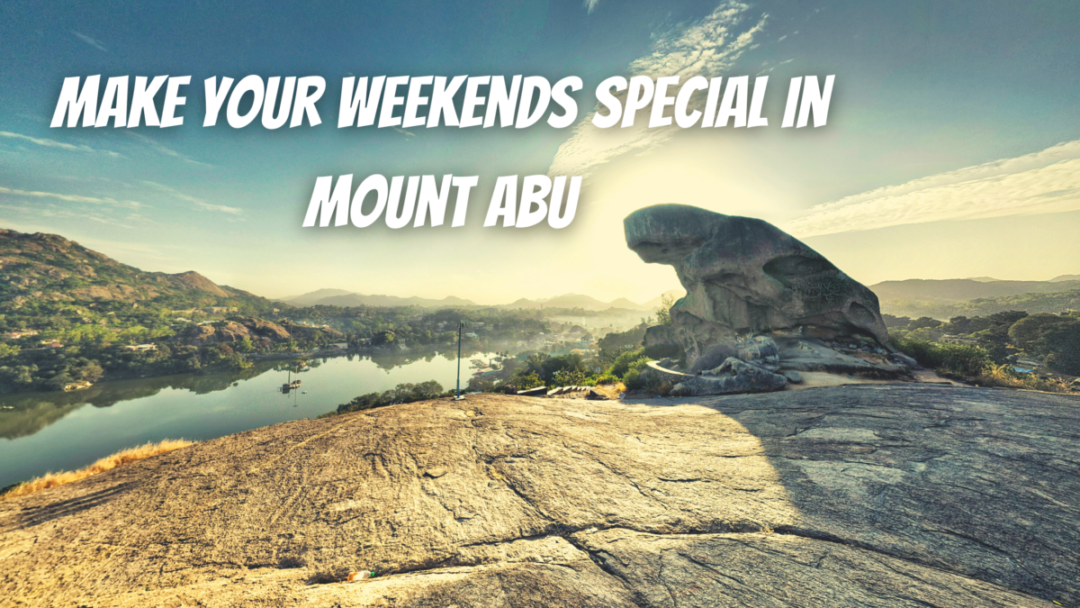 Mount Abu is one of the most famous and most beautiful tourist locations in Rajasthan. It is situated on the beautiful Aravalli Plateau and is surrounded by lush green forests and the pristine beauty of lakes. However, it also has several temples and heritage of ancient forts and Havelis that will offer you pretty amazing sceneries. This city has not only several popular tourist destinations but also various adventures and sightseeing places.

This city exhibits some of the best royal structures and monuments with artistic features and craftsmanship. Moreover, life around here is very peaceful, and the locals are quite friendly as well.

Mount Abu is home to various landmarks and has been attracting visitors and tourists worldwide. Besides, you can enjoy the beautiful starry sky on Nakki Lake or the flawless ornamental carvings of Dilwara Temple.
However, there are other various serene spots like the Mount Abu Wildlife Sanctuary, Peace Park, Guru Shikhar Peak, Sunset Point, Abu Road, Trevour's Tank Toad Rock, etc.
Explore the sightseeing places in Mount Abu
Mount Abu is probably one of the most exciting places for sightseeing in India. With its gorgeous temples and pristine lakes, you can never run out of places for Mount Abu sightseeing. Whether you love historical monuments or you love nature, this little hill station will offer you a feel of serenity.
Trekking along with the massive Kumbhalgarh Fort or spending a spiritual day at the Dilwara Temple will make your visit unforgettable.

Here are some of the beautiful sightseeing places of Mount Abu:
Mount Abu Wildlife Sanctuary
Dilwara Jain temple
Nakki lake
Guru Shikhar
Achalgarh Fort
Peace park
Honeymoon point
Toad rock
Shri Raghunath temple
Trevor's tank
Adhar Devi temple
These are the most popular sightseeing places that attract many tourists from all over the world. So, if you're planning to travel and explore these places, make sure to book a taxi in Mount Abu. This will help you if you want to visit more than one places out here.
Plan a tour in the beautiful city of Mount Abu. Book a taxi in Mount Abu with JCR Cabs.
Activities to do in Mount Abu
Rajasthan's only hill station, Mount Abu, is a paradise for you if you love travelling. However, there are many things to do in Mount Abu that will surely spoil you with choices.
Take a tour of sprawling Nakki Lake and enjoy boating here. This lake is famous for paddle boats, rowboats as well as shikhara. You can hire boats for 30 mins to 1 hour and sail through the beautiful water body and enjoy the surrounding green hills and forests.
You can trek to Guru Shikhar, which is the highest peak of Aravalli. Trekking to Guru Shikhar will offer you a thrilling and moderately challenging experience. However, when you reach the point, the view of the entire Mount Abu and surrounding regions will make your jaw drop.
Visiting the Mount Abu Wildlife Sanctuary is one of the best things you can do in Mount Abu. Here you can spot exotic birds and wildlife, which is a matter of delight. Also, you can enjoy thrilling jungle trek and spot leopards, jungle cat, sloth bear, jackal, hyena, wolves, etc.
If you love adventure and plan for trekking and camping in Mount Abu, make sure you visit to place the mountain caves like Champaa Caves. These caves will offer you an adventurous camping experience and a thrilling cave exploration trip.
Places to shop in Mount Abu
Mount Abu has many shopping malls and local markets from where you can shop. You can buy some of the best handicraft items, souvenirs, authentic clothes in the memory of your trip. Here are some of the famous places and shops from where you go shopping:
Rajasthan emporium – for Handicraft items, clothes, utensils and handloom products
Sajawat hookah store – for Latest glass type hookahs and tobacco items
Rajasthan Novelty – for latest fashion clothing for men and women and gift items
Chacha Museum – for Authentic idols, antique pots, swords, and shields, which are made of precious metals, and pooja souvenirs made of sandalwoods, silver, and bronze and Rajasthani style lamps and chandeliers
Piccadilly Plaza Mount Abu – Traditional Rajasthani Kurtas and Kurtis, jewellery and also arts and crafts.
Places to eat in Mount Abu
Mount Abu offers some of the best vegetarian as well as non-vegetarian dishes. You will find that most of the cuisine comprises lentils. Here are some of the amazing street foods in Mount Abu that you must give a try.
Dal Bati Churma in Jodhur Bhojnalaya.
Laal maas in Jaipur palace.
Mohan maas in Jaipur palace.
Gate ki khichdi in Jodhpur Bhojnalaya
Bajre ki roti in Ambika restaurant
Ghewar in Dawat restaurant, Chacha Inn.
Maalpua in Abu Chaat junction.
Moong daal halwa in Hotel Hillock, Mount Abu.
Festivals and culture of Mount Abu
The summer festival is celebrated as the Buddha Poornima festival in Mount Abu. This festival is one of the most popular fairs and festivals of Rajasthan.
You will see this celebration as the cordiality and happiness of the people, reflecting their colourful lifestyle and culture. However, the lively culture and exotic location will make this festival a memorable experience for you.
Mount Abu is famous for its Kota Saris, Sanganeri Prints, Jaipuri Quilt, traditional Rajasthani Jewelleries, Sandalwood and Sandstone Carvings. You will also find wooden, marble and metal artefacts, leather Articles, Rajasthani paintings and other Handicrafts.
However, the People who live here in harmony are of different religions, castes and creeds. The languages that are majorly spoken in Mount Abu are Rajasthani, Hindi and English.
Book a Taxi in Mount Abu with JCR Cabs. Make your holidays in Mount Abu special.