Best 6 Places to Stay in Jodhpur
Jodhpur, commonly referred to as the Blue City, is a mesmerizing location in the
centre of Rajasthan, India. Jodhpur provides visitors with a distinctive experience
because of its magnificent forts, bustling markets, and rich cultural heritage. Making
the appropriate lodging choice is essential for a memorable trip. Here are Six of the
top hotels that ensure a luxurious and comfortable stay in this magical city.
Umaid Bhawan Palace
● Surrounded by 26 acres of verdant grounds, Umaid Bhawan Palace is a
stunning representation of Rajasthan's opulence.
● This palace-turned-luxury hotel, with 347 rooms, promises a lavish and regal
experience. Umaid Bhawan Palace is a fantasy come true with its gorgeous
architecture, regal decor, and attentive service.
● Enjoy sumptuous amenities, reenergize at the spa, mouthwatering cuisine, and
sweeping city vistas.
● An extraordinary and opulent experience is guaranteed when staying at this
famous palace.
Want to visit Umaid Bhavan Place Taxi service in Jodhpur is the Best option.
Raas
● At the foot of Mehrangarh Fort, there is a hotel called Raas that skillfully
combines elegant modern design with ancient Rajasthani charm.
● Beautiful sandstone architecture, expansive courtyards, and nicely decorated
rooms and suites are all hallmarks of the hotel.
● From the rooftop restaurant, take in the mesmerizing views of the fort and the
surrounding area while dining, or unwinding poolside.
● Raas is the perfect option for travellers looking for comfort and cultural
immersion because of its friendly hospitality, top-notch amenities, and
convenient location.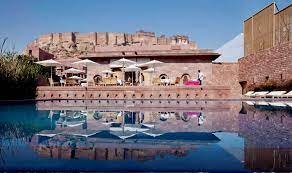 Read More: Best Season to Visit Jodhpur
Ajit Bhawan
● The first heritage hotel in India provides a window into the opulent way of life
of Rajasthan's nobles.
● With intriguing architecture and heritage suites furnished with antique
furniture and artwork, the house emanates an old-world charm.
● Relaxation is offered by lush grounds, a pool, and a spa, and mouthwatering
Rajasthani food is served.
● The rich history and heritage of Ajit Bhawan, along with its opulent amenities,
give visitors a singular and remarkable experience.
● Luxury resort The Umaid Jodhpur skillfully blends contemporary
conveniences with age-old Rajasthani hospitality.
● The resort, which is spread out across 28 acres of beautifully landscaped
gardens, has large accommodations, a relaxing spa, a variety of eating options,
and recreational amenities like a swimming pool and fitness centre.
● The kind and attentive staff ensures a delightful stay, while the classic
Rajasthani architecture and furnishings create a beautiful atmosphere.
● The Umaidd Jodhpur offers luxury and leisure.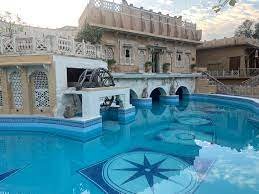 Taj Hari Mahal
● The Taj Hari Mahal is a five-star hotel that honours Jodhpur's extensive
cultural history. Elegant architecture, lush gardens, and exquisitely furnished
rooms and suites are all features of the hotel.
● A fitness centre, a spa with restorative treatments, and a swimming pool are
just a few of the attractions available to visitors.
● The renowned restaurants within the hotel provide a wide range of cuisines,
including meals from the Rajasthan region.
● The Taj Hari Mahal offers a pleasant stay with its flawless service and opulent
setting.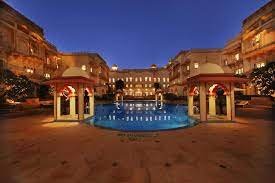 Read More: Trip to Jodhpur "Jaswant Thada" With JCRCab
Ratan Vilas
● Set in a lovely environment, Ratan Vilas is a heritage hotel that offers a
genuine Rajasthani experience.
● Traditional decorations may be seen in the hotel's rooms and suites, which
reflect the area's rich cultural past.
● Visitors can unwind in the tranquil courtyard or by the pool, which is
surrounded by beautiful vegetation.
● The hotel's restaurant serves delectable Rajasthani and foreign food, and the
friendly staff ensures personalized service.
● Ratan Vilas provides a serene getaway with a dash of class.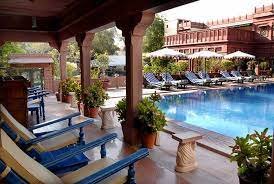 Reach Jodhpur by Car hire in jodhpur and Explore places to stay in jodhpur