Top 7 Monsoon Destinations in Rajasthan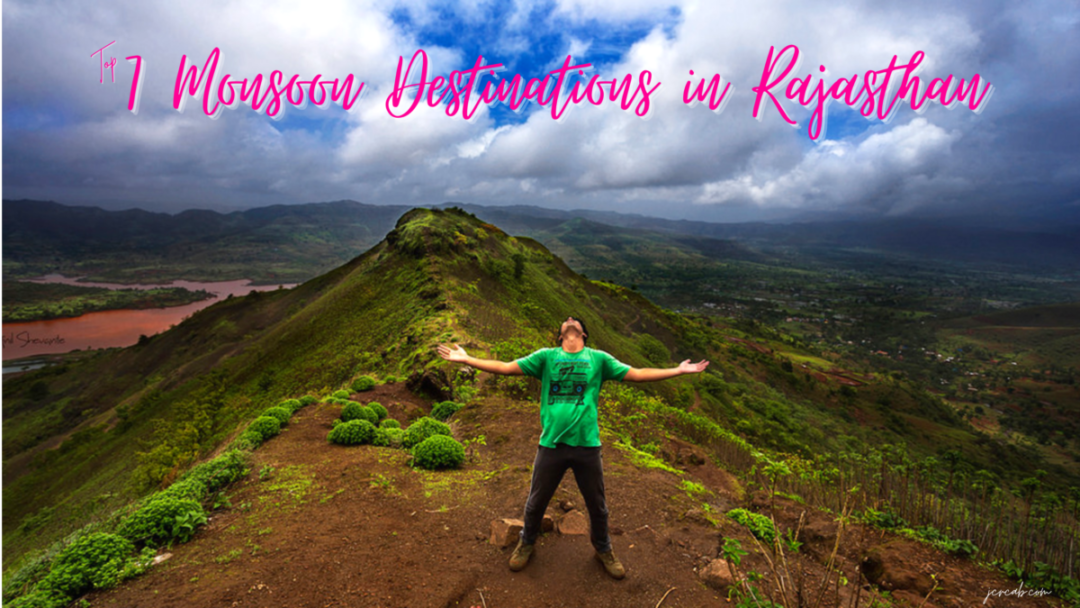 When it comes to holiday destinations in Monsoon, Rajasthan has been keeping up in the list of favorite travel destinations of people not just in India, but all around the World.
Rajasthan is a state that offers vividness and variety. Along with the colorful tradition of people in Rajasthan, Rajasthan is a hub of lavish cuisine, historic architecture, and cultural artwork at its best.
This Blog is here to give you a mini-tour of Monsoon Destinations in Rajasthan right from the window of your room, or the window of your screen. Let us learn about the Top 7 Monsoon Holiday Destinations in Rajasthan and what is popular about them:
Udaipur
Udaipur, the city of Lakes and Palaces, is a visual delight in Monsoons. People love to visit Udaipur to explore the insides of the city wandering through the streets like Gypsies. Locals and Tourists swarm by the lakes to get a view of the beautiful cloudy day with drizzles that make it a wonderful experience for all. It is always wise to hire a taxi in Udaipur to travel with convenience.
Mount Abu
Every Monsoon, people from all over Rajasthan and all over India visit Mount Abu, which is a steep hill, not too high up. What is better than Monsoons in the hills? Mount offers tourists a variety of activities, some beautiful nature-clad resorts, delicious food, and adventure opportunities making it a perfect holiday getaway in Monsoons. Lots of tourism companies provide special monsoon offers when you book a cab in Mount Abu.
Pushkar
Pushkar has been a favorite tourist spot for Indians, and especially for the people of Rajasthan itself. Tourists love the scenic beauty of this city, which is enhanced even more during the monsoon season. Pushkar is a beautiful city where a lot of migratory birds can be seen during Monsoon around the lakes and rivers. The city is also popular as a pilgrim spot making it suitable for full family getaways. Many people prefer to travel to this city by booking a Cab in Pushkar in advance.
Kumbhalgarh
People from all over Rajasthan visit Kumbhalgarh at least once during every Monsoon. It is so popular that it has become an annual norm for young travelers across the state. Kumbhalgarh's beauty, enhanced by the palace and lake, added with the perks of a Road Tour, lavish resorts, and swimming pools make it the perfect weekend getaway spot in Rajasthan. And the cherry on the cake is the photography opportunity that nature and surroundings make up for. It is easy to book a one-day tour to Kumbhalgarh and hire a cab to Kumbhalgarh for the journey.
Jaipur
Jaipur, the Pink City, is one of the most loved Tourist Destinations in Rajasthan. Monsoon is a favorable season for everyone to visit this city. It is because of the beautiful festival of Teej, which is celebrated during the onset of Monsoon. This festival is celebrated with great enthusiasm among the city locals, with various processions in the honor of 'Teej Mata' (believed to be an avatar of Goddess Parvati). Hire a taxi in Jaipur, as soon as you land here, to make sure you have a hassle-free monsoon weekend.
Goram Ghat
A lesser-known Tourist Destination, Goram Ghat, is popular among the youth of Rajasthan. Located near Udaipur, it is a small secluded place that offers amazing scenic beauty with a lot of low hills, rocky plains, green plants, waterfalls, rock bridges, and rocky cliffs in the area. The place is glowing with beautiful spots during the monsoon when all the plants are green and flowers are in abundance, the waterfalls are flowing gracefully and the sun is damp behind the clouds. This place is a must-visit for every nature lover.
Keoladeo National Park
A local name given to the Bharatpur Bird Sanctuary; this park is a famous tourist destination all-round the year. But anyone who visits Rajasthan during the monsoon season makes sure not to miss this place even by mistake. This is because all the nature lovers, and wildlife lovers, but especially the bird lovers are flocking this place each year on the onset of monsoons. The place is a migratory destination of tens of beautiful migratory birds including the two most popular birds, i.e., Migratory Waterfowls and Siberian Cranes.
Rajasthan as a Monsoon Getaway
Rajasthan is a popular Monsoon Destination in India. Monsoon arrives in Rajasthan from late July to the entire August and September. Monsoons in Rajasthan are scanty — not too much, not too little, But enough to make all those flowers bloom, enough to make all the dry rocky terrains green, and enough to make all the beautiful lakes and palaces shine with their natural beauty.
There's a famous anecdote in Rajasthani Culture where Monsoon is welcomed as a 'Jamai' or 'Damaad', which means the daughter's husband. The culture of Rajasthan respects this kin relationship highly, and whenever they visit home, they are treated with delicious food and treated with a lot of love, respect, and hospitality. In the same way, Monsoon is also treated as a guest in Rajasthan. There are also hundreds of folklores, folk music, and dance, and folk art based on Monsoon which are popular throughout the state.