Vacationing in Kota: The Incredible City of Rajasthan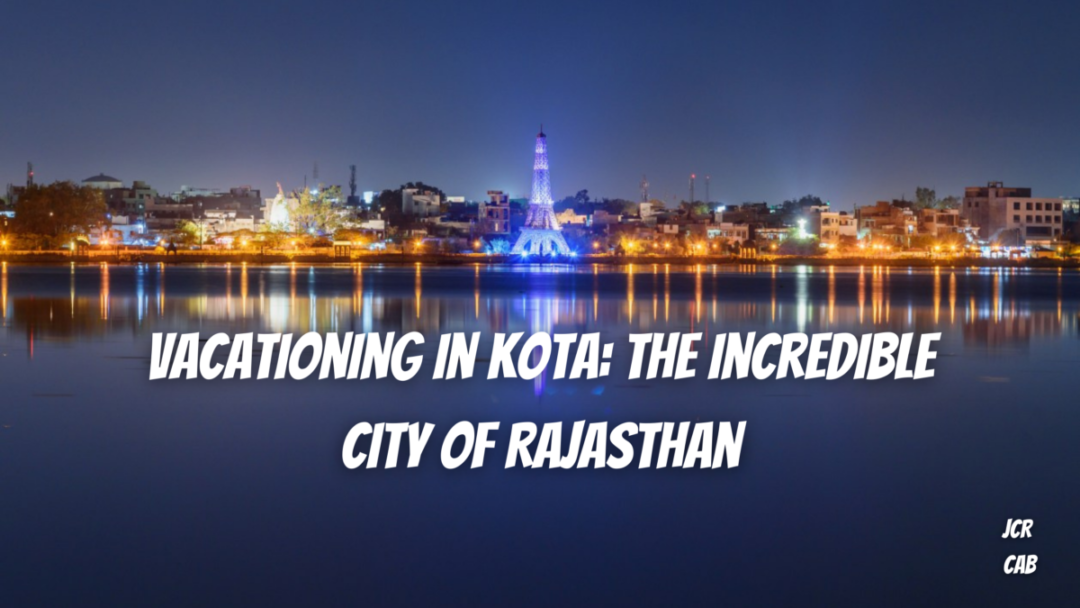 Kota is one of the most famous and most populated cities in Rajasthan. Till the 1600s, Kota belonged to the Kingdom of Bundi. This historical city of southern Rajasthan flutters with various tourist activities. Kota's Eco-tourism is very popular for migrating birds, water rides, crocodiles, etc. The Chambal waters the city with its serene beauty. The temples, forts, nature parks, palaces, and dams are the most important tourist destinations. 
Suppose this is the first time of your visit to Kota. In that case, you must be aware of some amazing places, fascinating activities, festivities, shopping destinations, and authentic food that you must include in the trip planning.
Enjoy the amazing visiting places in Kota
Kota is famous for its serenity. Taxi in Kota is readily available for you to roam around these scenic beauties. Following are the amazing visiting places for experiencing an enthralling vacation in this beautiful city in Rajasthan.
Jagmandir Palace – This heritage palace is situated in the middle of Kota's Krishna Sagar lake. Red sandstone is the basic building element of this palace and also the reason for its enchanting beauty.
Chambal Garden – This greenery is situated at the bank of the Chambal river. This garden is the most popular picnic spot in Kota.
Alnia Dam – This place is famous for the ancient rock paintings and migrating birds.
Garadia Mahadev Temple – This temple offers the outstanding beauty of the river Chambal and the surrounding wilderness.
Mukundara Tiger Reserve – This wooded area is a reserve for bears, deer, wild boar, and panthers.
Besides these, the other popular visiting places of Kota include Garh Palace, Abheda Mahal, Charan Chauki, Dad Devi Temple, Kota barrage, Jagmandir Palace, 7 Wonders Park, etc.
Plan your sightseeing tour in Kota with JCR Cabs. Book a Taxi in Kota now. [CTA Banner]
Fascinating activities to perform in Kota
Are you worried about missing out on the most fascinating location for sightseeing in Kota? Then read on the following list of some of the things to do in Kota.
Scout the view of murals and ancient wall paintings of Kota's Fort and Palace. 
Derive pleasure from the sensual beauty of river Chambal from a boat.
Witness the fascinating celebration of Kota's Dussehra festival 
Visit Gaipernath Waterfall by trekking. 
Get closer to the beauty of wild lives at Sorsan and Darrah. 
The must-visit shopping destinations of Kota
Being the principal city of Rajasthan, Kota is famous for its numerous shopping destinations, rich arts and crafts. The top attractions of Kota are:
Government Emporia – Famous for reasonable handcrafted silk, silk, souvenir, momentoes, etc.
Main Bazaar – Famous for Kota silk.
Rampura Bazaar – Famous for Doria sarees.
New Cloth Market – Popular for ethnic wear.
Gumanpura – Known for being the centre of famous brands.
Some of the other popular markets are Indra Market, Palika Bazaar, etc.
Where to eat and what to eat in Kota
The foods of Kota are famous for their delicacy and their blend of art, heritage, cultures, and traditions. Kota's best eating destinations are –
Pangea – Must try items are Makki ki roti and Sarson ka dal.
Barbeque Corner – Must try items are Paneer tikka and Grilled chicken.
Amar Punjabi Dhaba – Must try items are Lachcha Paratha and Paneer Pasanda.
Bagichi Pure Veg Restaurant – Must try items are Paw Bhaji and Aloo Matar.
Apart from these, the famous street food stalls are Panna Lal ke Pakode, Thapa Ji ke Momos, DN8 Pani Puri, Krishna Sandwich, Goli Vada Pav, etc.
Famous festivals and cultures of Kota
In Kota, festivals and cultural gatherings are celebrated in grand fashions, and a large number of people join for this. Some of these festivals are –
Gangur Festival – After Holi, the Gangur festival is celebrated in Kota on the very next day. Through this festival, the Goddess Gauri, wife of Lord Shiva, is worshipped. Married and unmarried women of Kota mainly celebrate this festival.
Handicraft Mela – In every December, this mela is organized in Kota. Fascinating handmade fabrics, colourful Rajasthani paintings can be seen here.
Dusshera Festival – Dussera is one of the most famous festivals that are celebrated in Kota. The demon king, Ravana, is burnt during the Dusshera festival. Numerous people from various localities gather to witness this celebration.
Industrial Fair – Held in February, this fair offers a grand chance for the local industries to sell and showcase their products. From small-scale to large-scale industries, all traders get the opportunity to showcase their products. It is a very popular fair of Kota.
Chambal Sports Festival – This is an adventure sport that's celebrated by the locals of Kota every year. During February, numerous sports people participate in this festival. River Chambal is the venue for this event. The sports include kayaking, water skilling, windsurfing, parasailing, etc.
Kota is rich in culture, cuisines, scenic beauty, and heritage. There are numerous visiting places, shopping destinations, festival celebrations, delicious cuisines that would make your Kota trip worthwhile.
Book a taxi in Kota with JCR Cabs and create unforgettable memories this holiday season.