What To Consider Before Hiring a Taxi or Cab Service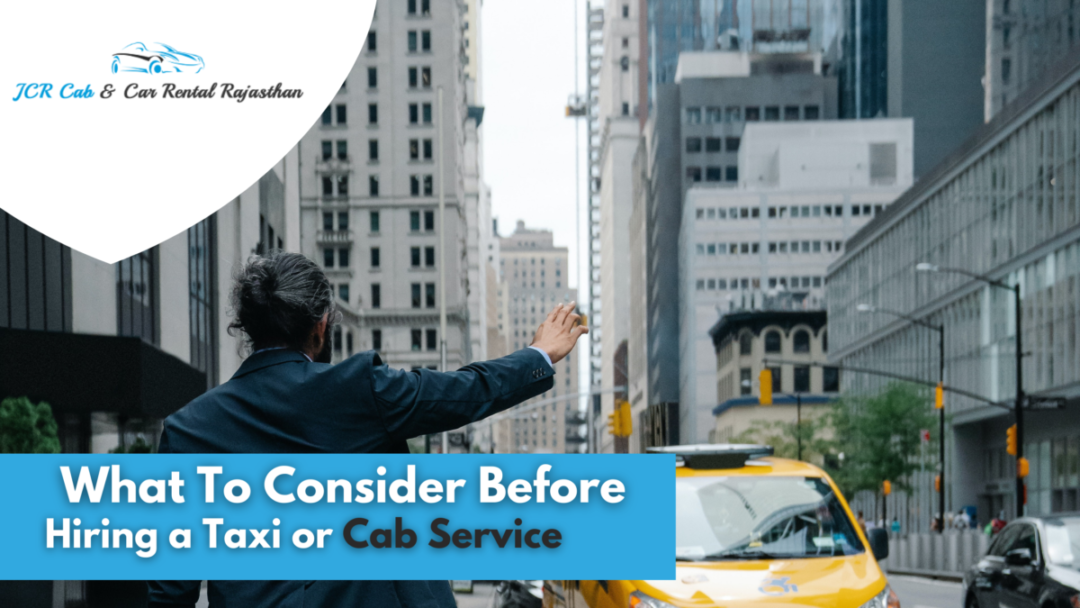 If there is an easy way of transport, then it is a road trip without any fear of losing luggage or track. Road trips are best known for their scenic beauty and convenience. And the road trips can be fulfilled with a reliable taxi service. The most significant advantage of hiring a taxi for your journey is that you can travel with your favorite people like friends and family.
Nowadays, with the ever-increasing cost of vehicles and their maintenance, hiring a taxi service is the sound choice. Cabs are a convenient and affordable way of travel. They are becoming popular due to their flexibility. You can book your favorite cab from the comfort of your home. They are available through the application or the website.
There are numerous advantages of hiring a cab service like no waiting period, travel friendly, privacy, etc. But a few points you must keep in mind before hiring a taxi service to ensure quality service and efficiency. In our article, we are mentioning a few crucial points that you must consider before hiring a taxi service.
Top Best Things to Consider before Hire a Taxi
Travel Cost
This is undoubtedly the most vital aspect to consider while hiring a taxi service. There are tendencies among the taxi service providers to hide the extra charges while finalizing the deal with the customer. For example, some providers include night, toll, and drivers charges in their package while others charge for these separately. Hence it is required that you hire a cost-effective taxi service.
If you are looking for a budget taxi booking, it is crucial that you thoroughly consider the pricing factor so that you won't miss your favorite destination due to price.
Background verification
The most underrated but influential aspect is people often ignore the authenticity of both the company and the drivers. It is incredibly crucial to do a background verification before finalizing the service because you are going to travel with an unknown individual that too with your family or friends. Hence you must check the reliability of both of them.
For drivers, you can check for their discipline, punctuality, professionalism, hygiene, behavior, and past criminal record, if any. But when it comes to organization, you must cross-check with the previous customers to get the required info so that you can always check safe and secure taxi services.
You can also ask the service provider for the legal documents from the various departments to ensure they are operating legally. If you find any dissimilarity in their service, ask them to show proof of authenticity or don't hire them. Another aspect is customer support. Suppose you are stuck midway through your journey due to the inefficacy of a vehicle, then you need quick customer service that will save you time. If they are not good with customer support, all your money and energy will go in vain. So choose wisely.
Vehicle Inspection
While hiring a vehicle, you cannot solely rely on vehicle photos. Physical inspections are always required to check the quality of your travel companion. The vehicle's actual condition might not be visible through the photographs, and it is necessary that you visit the office of the service provider and inspect the car by yourself.
Ensure that all the safety and convenience features like AC, infotainment, airbags are working correctly. Check for any wear and tear inside and outside of the car so that there would be no conflict between you and the service provider. The quality of taxi services is also of equal importance.
Types of Services
It is necessary that you ask for the services they provide so that you can choose the best one as per your requirements. For example, some companies offer Airport pick up and drop, and some provide one-way taxi service. Always look for those who made a comprehensive package that combines all these services as those packages are not only cheap but hassle-free as well.
They also have different fleets of vehicles for various services. Ask them to show the types of cars they have decided for services. This will help you choose both the benefits and cars effortlessly.
Travelling is an exciting and fun activity, but it can be a nightmare also if you don't take precautions beforehand. Car rental in Rajasthan is available to suit your needs, but it is advisable that you follow all the steps mentioned above to prevent any future conflicts, and you can enjoy the trip to its fullest.