Chokhi Dhani, Jaipur: Timings, Entry Fee & Things To Do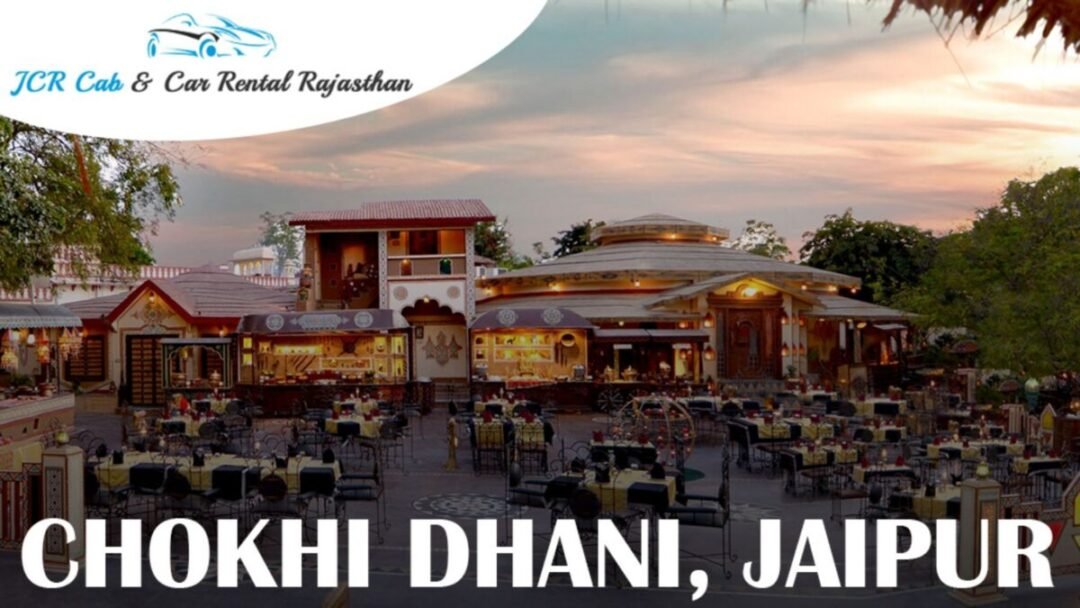 Chokhi Dhani is a village theme resort in Jaipur. It is around 20 kilometres from the main city of Jaipur and is a perfect mirror to the Rajasthani culture, tradition, food and heritage. The place is filled with live entertainment and will leave you spellbound with its timeless beauty and charismatic aura. You can stay in the resort the whole day and explore its beauty, but the events and activities begin in the evening with an exciting atmosphere. Magic shows, puppet shows, folk dance performances, Rajasthani music, animal rides, bamboo acrobats, fortune tellers, and luck forecasting parrots are among the nighttime activities at Chokhi Dhani that will leave you in awe.
Since 1994, Chokhi Dhani resort has been serving native and worldwide travelers for a long time. The cultural village extends up to 10 acres and is set in a lush green landscape with picturesque surroundings. Right from the setting to food served to Rajasthani folk dance, everything reflects the rich culture of Rajasthan.
 Also Read – Complete Guide For Nahargarh biological park
Interesting Activities At Chokhi Dhani 
Dance Performances
Every evening, people get to enjoy the music and traditional dance performances like Kalbeliya dance, Chari dance, Ghoomar dance, etc., performed by local folk artists. 
The melodious Rajasthani folk music and dance are no less than a treat to your ears and eyes. The Chari dance requires the folk artists to dance with seven to eleven pots on their heads. Watching the artists perform these beautiful dance forms with pretty attires is incredible, and the best part is even you can join them and double your joy. 
Traditional Magic Show & Puppet Show
Chokhi Dhani is an amazing place even for the kids as it hosts a puppet show, a magic show, and an acrobat show. This resort will keep the kids busy and entertained for 3-4 hours. 
The legendary puppet show is a part of the rich tradition of Rajasthan. The skilled puppeteers tell enthralling tales of Rajasthani princesses and kings using puppets.
Animal Rides
The fun is incomplete if you don't try animal rides at Chokhi Dhani. The animal rides include bullock cart rides, camel rides, horse rides, and elephant rides.
The camel ride is the best as it shows the place smoothly due to its slow pace. These rides can be fun and a new experience for many tourists. 
Mehendi Tattoos
In Indian culture, Henna or Mehendi holds great significance. Most of the Hindu festivals are incomplete without Henna. So you can choose from a variety of unique designs and get them done by the Mehendi artists. 
Savour the Delectable Cuisine
Chokhi Dhani Resort in Jaipur serves some excellent traditional Rajasthani cuisine that will leave you amazed. And it is not just its authentic taste, but the way food is served here is unique in its own way. It will give you a reminiscence of the real India as you enjoy the meal while sitting on the floor in traditional style. 
Shopping at Chokhi Dhani Resort, Jaipur
Chokhi Dhani is dedicated to promoting all local things. Hence, it encourages the local artisans to sell their handicrafts, be it traditional Rajasthani footwear, adorable bangles made of lac, famous Rajasthani textiles, attractive jewellery and accessories, or marvellous home décor paintings. All these items are priced reasonably so everyone can buy them and also gift to friends and family.
Also Check Out – Bapu bazar, jaipur : Best Shopping Landmark in Jaipur
Entry Timings & Fee
Chokhi Dhani, Jaipur Timings 
For visitors, Chokhi Dhani opens at 5 pm in the evening till 11 pm. The resort is generally open throughout the week. 
Chokhi Dhani, Jaipur Entry Cost
The entry cost for adults is INR 700, while for children below the age of 9 is INR 400. 
Chokhi Dhani, Jaipur Multi-Cuisine Dinner Buffet
For the multi-cuisine dinner buffet, adults have to pay Rs. 1100 and for kids, it is Rs. 700. 
This cost includes dance performances, dinner, welcome drinks, cultural events, and many more activities. But, it does not include the cost of rides, astrology, games, tattoos.
Chokhi Dhani, Jaipur Best Time To Visit
The best time to visit Chokhi Dhani resort is after 6 pm and during the months of October to March. 
How to Reach Chokhi Dhani
The distance from Jaipur to Chokhi Dhani resort is approximately 25 km. 
The distance from the Jaipur International Airport is just 12 km which takes about 15-20 minutes to reach the resort. 
The time to reach the resort from Jaipur Railway Station is about 25 minutes.
It does not matter whether you fly down to Jaipur or arrive by rail or bus, the city is well-connected, and you can reach the resort easily. Furthermore, you can book a taxi in Jaipur and reach your destination hassle-free.