Nahargarh Biological Park, Jaipur: A Complete Guide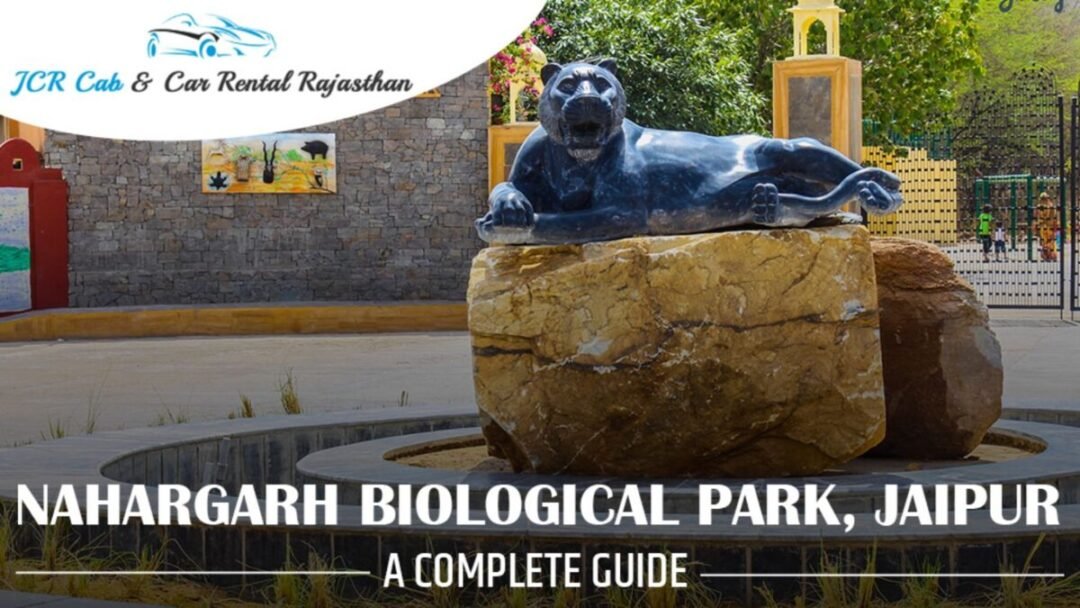 The Pink City, Jaipur will never stop surprising you in terms of art, culture, and tradition. But besides this, you will also be amazed by the beautiful nature, flora, and fauna. The Nahargarh Biological Park is famous for conserving flora and fauna, and you can experience wild animals very closely.
If you have planned a trip to Jaipur and are wondering where to go, then Biological Park in Nahargarh should be on your top list for a half-day trip. Wildlife and nature lovers would definitely love this trip to this Biological Park.
What is a Biological Park?
An area of land, declared as public property by the government. These areas of land are reserved for environmental conservation and the protection of species.
Animals here are adaptive to the environment in terms of physiology, anatomy, and behavior.
About Nahargarh Biological Park, Jaipur
Nahargarh Biological Park is a part of the Nahargarh sanctuary, located about 12 km from Jaipur on the Jaipur-Delhi highway. It is situated under the Aravalli range and covers a wide area of 720 hectares. The Park is known for its diverse flora and fauna, and one of its primary goals is to protect them. It is also a great place to educate people and conduct research on existing flora and fauna.
There are around 285 species of birds, and the most popular one is the white-naped tit, which can only be found here. You can also experience watching the Royal Bengal Tigers, Hyenas, Asiatic Lions, Panther, Wolves, Deer, Sloth Bear, Crocodiles, Wild Boar, and many more.
The major attraction of the Nahargarh Zoological Park is the Elephant safari. Wild animals and birds can be seen in large numbers here. It is an excellent experience for wildlife enthusiasts to enjoy elephant safaris and click incredible photographs.
A climb to the hills on elephant back is further enriched by the superb views of the jungle and hills. Nahargarh Biological Park is represented by three ecosystems, i.e., Aravalli Eco-system, Wetland Ecosystem, and Desert Ecosystem. You can enjoy the natural habitat of all these ecosystems during the elephant ride.
Also Read – Jantar Mantar,Jaipur : History ,Architecture , Things to do ,Entry Fee and Timings
Construction of Nahargarh Biological Park, Jaipur
The park was inaugurated by CM Vasundhara Raje along with Mayor Nirmal Nahata and head officers from the forest department and RSRDC.
The construction of this biological park is done using granite rocks and hard metamorphic rock, consisting of interlock quartz crystals.
There is a dry, dense, and tropical rainforest, where a lot of animals can be spotted, including lions, tigers, leopards, etc.
The Biological Park is maintained by the Govt. of Rajasthan, and they are doing a great job in terms of cleanliness and maintenance in order to attract tourists and visitors.
Nahargarh Biological Park Timings
If you're planning to visit this park for animal sighting, then make sure to visit during the mornings hours. The park is open between 9:00 am to 5:30 pm on all days except Tuesdays.
Nahargarh Biological Park Ticket Price
For Indian visitors: 50/- per person
For foreign visitors: 300/- per person
For students: 20/- per person
Vehicle Entry Fees:
Auto Rickshaw: Rs. 60
Motorbike: Rs. 30
Canter/Minibus: Rs. 300
Bus: Rs. 500
Camera Charges
Camera (Indian): Rs. 200
Camera (Foreigner): Rs. 400
Video camera (Indian): Rs. 500
Video Camera (Foreigner): Rs. 1000
What is the best time to visit the Nahargarh Biological Park?
The best time to visit the park is in early winter, from October to February. If you're planning to visit in the summers, try to go in the mornings as it is quite hot in Jaipur during summers.
Must Read About – Nahargarh Fort, Jaipur : It's History ,Architecture , Thing to do , Entry Fee and Timings
Travel Tips
The total time needed for the complete park tour is around 3-4 hours.
You may have to stand in the queue for tickets if you are visiting on weekends and may find the place a bit crowded. But anyway, there is no fun without the crowd.
Try to wear a comfortable outfit and footwear.
Do not disturb any animal or violate any rules.
Carry your water bottles with you.
Try to maintain cleanliness, and so do not throw any waste anywhere other than dustbins.
The Last Word
If you're planning a trip or a weekend to visit famous places in Jaipur, you can book a cab or car rental with JCR and have an amazing and safe trip.