All about Jodhpur Palace and Mehrangarh Fort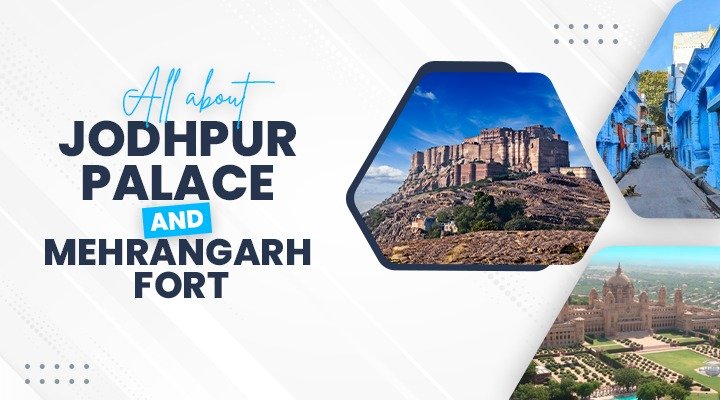 The Jodhpur Palace and Mehrangarh Fort are two outstanding examples of the area's rich cultural legacy and architectural grandeur, and they are both situated in the charming city of Jodhpur in Rajasthan, India. These famous landmarks draw tourists from all around the world with their majestic beauty and historical significance. In this blog, discover the fascinating stories and magnificent architectural feats that make Mehrangarh Fort and Jodhpur Palace so outstanding. 
Jodhpur Palace – Umaid Bhawan Palace 
The magnificent architectural masterpiece known as the Jodhpur Palace sometimes called the Umaid Bhawan Palace, is perched on a rocky mountaintop. 
The lavish hotel and royal house were both built between 1928 and 1943. Henry Vaughan Lanchester, a well-known architect, was hired by Maharaja Umaid Singh to create the palace. 
Read More: A 3-day itinerary to Jodhpur
The palace's sprawling 26 acres demonstrate a seamless fusion of Indo-Saracenic and Art Deco architectural styles. 
Golden-hued sandstone makes up its gorgeous facade, while its inside has opulent marble details, elegant chandeliers, and great artwork. 
Visitors can explore the lavish interior spaces, the verdant grounds, and the sizable museum that details the illustrious past of the Jodhpur royal family.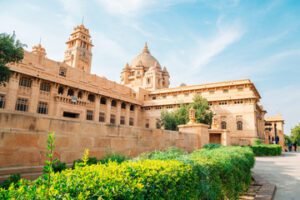 A Fortress of Legends: The Mehrangarh Fort 
Jodhpur's Mehrangarh Fort dominates the city's skyline and serves as a commanding reminder of the area's long military heritage. The fort, which Rao Jodha constructed in the 15th century, is positioned atop a precipitous slope and is encircled by thick walls that in some spots reach heights of 120 feet.
 Visitors are taken back in time to a time of heroic warriors and regal splendour when entering via its massive gates. The fort is home to a variety of palaces, some of which are exquisitely carved, like the Moti Mahal (Pearl Palace) and the Phool Mahal (Flower Palace), and others which reflect the architectural styles of many historical times.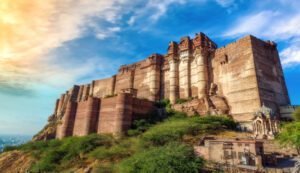 Want to Visit Mehrangarh Fort Car Rental in jodhpur is the Best option.
The museum at the fort is a veritable gold mine of artifacts, featuring an impressive collection of weapons, regal attire, delicate Rajput miniature paintings, and historical records. A glimpse into Rajasthan's rich cultural tapestry is provided through the museum's evocative narration of stories of battles fought and victories. 
Jodhpur Palace and Mehrangarh Fort are irreplaceable reminders of Rajasthan's grandeur thanks to its exquisite architecture and significant historical significance. These famous landmarks have seen the rise and fall of many empires, and the legends of bravery and regal rule still reverberate within their walls. Visitors travel back in time on an enthralling voyage as they explore the opulent palaces, majestic halls, and immersive museums.
Read More: The Blue Houses of Jodhpur: A Fascinating Display for Tourists
Inspiring tourists to immerse themselves in the regal appeal and architectural wonders of this alluring region, Jodhpur Palace and Mehrangarh Fort still exist as steadfast witnesses to Rajasthan's rich heritage.
JCR CAB is the magical solution to all your travelling desires. So, if you are looking for Taxi Service in Jodhpur then JCR Cab will leave no efforts to make your travelling experience memorable.