The Blue Houses of Jodhpur: A Fascinating Display for Tourists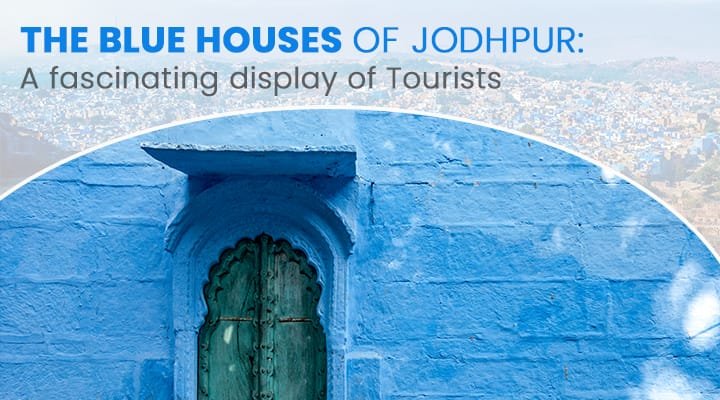 Jodhpur is a captivating area well-known for the magnificent architecture that can be discovered there. It is also known as the "Blue City" of India, which gives it another name. This city, which can be found in the midst of Rajasthan, is differentiated from others by its singular characteristic, which consists of the hypnotizing blue homes that grace its narrow alleys. Tourists come from all over the world to see these structures because of the distinctive blue colour they have, which has become synonymous with Jodhpur.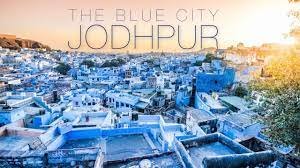 Now the question arises – why jodhpur is called blue city? 
Listed below are some of the major reasons.
The Meaning and Significance of the Colour Blue 
The people who live in Jodhpur adhere to an age-old tradition that calls for painting their houses a brilliant shade of blue. 
In the beginning, people who belonged to the Brahmin community were the ones responsible for establishing this practice. Their goal was to differentiate their homes from those of people who belonged to other castes.
Blue was chosen because of its association with Lord Shiva, who in Hinduism is revered as one of the most significant gods. Blue is also associated with the element water. 
It is widely held in some communities that the colour blue can ward off malevolent spirits because blue is seen as a symbol of heaven and the divine in these traditions. 
As time went on, the custom extended throughout the entire city and was no longer limited to the Brahmins alone; as a result, it was one of the factors that added to the unique appeal of the site.
Read More: Top 10 Restaurants of Jodhpur
The Perspective from Out on the Street 
As you make your way through the winding streets of the medieval city of Jodhpur, you will be treated to a spectacular display of sights. 
The blue buildings, which range in colour from a light azure to a dark indigo, create an enchanted atmosphere due to the spectrum of blues that they embrace, which contributes to the enchantment of the setting. 
The moment the sun begins to dawn, it creates the illusion that the houses have come to life. This neighbourhood can enchant everyone who dares to enter its confines. 
The facades of the buildings each have intricately carved windows, brightly coloured doors, and other ornamental features that add to the overall beauty of the architecture. These features contribute to the attractiveness of the architecture.
Want to explore Blue city Taxi service in jodhpur is the Best option.
Getting to know the Blue City
Visitors to Jodhpur who take a guided walking tour of the city will have the opportunity to experience the splendour of the city's iconic "blue houses." 
As you make your way through the streets that are laid out like a maze, you may anticipate that you will come across unexpected circumstances at every turn. As you walk, you will be amazed to see hidden courtyards, observe locals going about their daily routines, and be surrounded by a blue backdrop. All of these things will amaze you. 
Visitors are encouraged to become bewildered on purpose by the city's meandering streets so that they can learn more about the historical past and rich culture of the city.
Read More: The Royal Legacy of the Rathores of Jodhpur
Jodhpur, the City of Blue Heritage 
The blue legacy of Jodhpur is the subject of ongoing maintenance and preservation work that is currently taking place. 
The local government, along with various community organizations and private citizens, is exerting significant effort to raise public consciousness about the critical importance of maintaining the blue houses. 
Campaigns to educate people about the value of this architectural legacy are currently being launched, and precautions are being taken to ensure that the structures' stunning blue hues are preserved. 
By retaining this singular quality, Jodhpur will be able to continue to captivate tourists and will be able to serve as a living testimony to the city's famous cultural history.
The city of Jodhpur has an illustrious past and a rich cultural heritage, both of which are commemorated by the city's iconic blue houses. When you enter this ethereal region, it is as if you are entering a new realm, where the azure tones instantly transport you to a bygone era. It is as if you are entering a new cosmos when you enter this ethereal region. Anyone interested in having an experience in India that they will never forget should make it a point to visit the Blue City in Jodhpur. This is a location that should not be missed. Hire cab in jodhpur to visit Blue city.
Explore Blue City with JCR Cabs
While making a trip consider a complete package of Jodhpur blue city tour with JCR Cabs. It is the go-to taxi service provider in the region, known for its excellent services and customer satisfaction. Whether travelling alone, with a partner, or in a group, JCR CABS covers you.
Their taxis are well-maintained and spacious, with friendly and professional drivers who are eager to take you on an unforgettable journey through the enchanting streets of Jodhpur. They know the city inside out and will ensure you don't miss any of its iconic landmarks, including the impressive Mehrangarh Fort, the bustling Clock Tower Market, and the serene Jaswant Thada.
But wait, there's more! JCR CABS goes the extra mile to cater to your needs. If you're looking for a more spacious and luxurious experience, they offer comfortable tempo traveller and luxury bus services. Whether you're planning a day trip to the beautiful outskirts of Jodhpur or a longer excursion to nearby destinations like Udaipur, Mount Abu, or Jaisalmer, their well-equipped vehicles will ensure a smooth and enjoyable ride.
Reliability, punctuality, and customer satisfaction are their top priorities. JCR CABS offers affordable rates, transparent pricing, and flexible booking options, making it convenient for you to plan your explorations without hassle.
So, don't miss out on the best that Jodhpur blue city offers. Book a taxi, tempo traveller, or luxury bus with JCR CABS and prepare for an incredible adventure while they care for all your transportation needs.