All about Bikaner – Visit Bikaner with JCR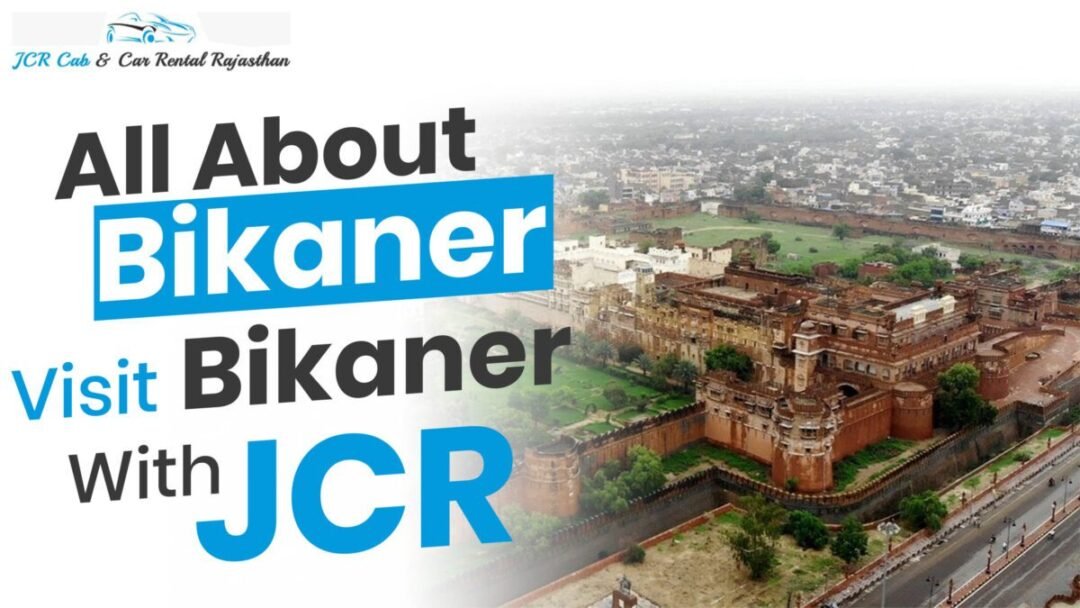 Do you love exploring dunes in the scorching heat of the sun? No place is better than Bikaner. The Camel capital of the country is renowned for its magnificent structure and British history. Previously known as the "Jangladesh" it is now a traveler's paradise that offers endless adventure in the heart of the Thar desert. 
There is a folktale associated with the inception of Bikaner. History states that Bikaner was founded in 1488 by a Rathore Prince called Rao Bikaji. He was one of the five sons of Rao Jodha (founder of Jodhpur). The Father of Rao Bikaji had said something insensitive that hurt the ego of the Rathore prince, and he left his father's Durbar. After traveling hundreds of kilometers, he found desert land known and reformed it as his capital, the developed city got its name changed from Jangladesh to Bikaner, and the town has been known by this name ever since. 
If you plan on traveling to Rajasthan, then Bikaner must be on your checklist. And if you are confused about where to travel in Bikaner, keep on reading as we discuss famous tourist places to visit in Bikaner.
Famous Tourist Places to Visit in Bikaner
Junagarh Fort
Built in 1593 by Raja Raja Rai Singh, the Junagarh fort is probably one of the best forts in Bikaner. The fort was built in the era of Mughals as the king was also the General in Akbar's army. Beautiful Jharokhas, Lawns, Balconies, and courtyards that can attract anyone's eyes. All the places are made with the use of red sandstone with tweaks of marble here and there. If you are traveling to Bikaner, then this landmark place is a must-visit.
National Research Centre on Camel
Museum and a Camel ride is the most exciting part of your trip to Bikaner. It is a famous tourist spot in the town that spreads over 2000 acres of land. The research center is developed to breed the camels, but it is more than that in reality. More than 200 camels of 3 breeds offer their milk for tourists available at the outlets there.
Lalgarh Palace and Museum
This majestic Palace in the heart of the town was built in the early 1900s by the Maharaja Ganga Singh. He dedicated this beautiful red sandstone marvel to his beloved father, Maharaja Lal Singh. It was designed by British architect Sir Swinton Jacob, and the fusion of Rajputana valor with Islamic and European design is clearly visible. A mesmerizing place for history lovers.
Rampuria Haveli
Haveli culture is quite prevalent in India. These Havelis are the symbol of wealth, and one such aristocratic building is also present in Bikaner. These groups of Havelis were built by the wealthy merchants of that period. Due to its rich historical background, it falls under the category of top tourist spot in Bikaner.
Gajner Palace and Lake
This place is an incredible visual delight in the ardent Thar. The beautiful Palace was built by Maharaja Gaj Singh Ji in 1784 but was completed by the Maharaja Ganga Singh of Bikaner near the lake. Initially serving as the hunting and resting place for royal families, it is now renowned as the best tourist spot.
Karni Mata Temple
Bikaner has a spiritual side as well. The centuries-old Karni Mata Mandir is one such example. According to a legend, the temple is dedicated to Karni Mata, an incarnation of goddess Durga. She also laid the foundation stone of Mehrangarh Fort at the request of king Rao Jodha.
According to an old folk, Laxman, one of the sons of Karni Mata, drowned in the Kapil Sarovar while drinking the water. The grieved Mata beg Yama (god of death in Hinduism) to revive his son. At first, he refused to do so but seeing her crying in sorrow, Yama revived not only Laxman but all of Karni Mata's sons in the form of rats. Since then, the temple has been home to more than 20,000 rats, in which the white rats are considered most auspicious. People around the world come to visit the temple to offer milk and sweets to the rats.
If you're looking for something extraordinary in your life, then this place is for you. The holy site of this temple makes it the top place to visit in Bikaner.
Places for Shopping in Bikaner
Lalgarh Palace Road – For Gift Items
Kote Gate Road – For Clothes and Street Food
Junagarh Fort Road – For Antiques and Artifacts
Bhujia Bazaar- For famous Bikaneri Bhujia and other snacks items
Bara Bazaar – For Food and Groceries
Laxminath Market – For Handmade Jewellery
Bada Bazaar – For Kundan Jewellery
Labhuji Ka Katla Market – For Leheriya Sarees
Khajanchi Market – For Traditional Clothes
Station Road Market – For Wooden Items
Mahatma Gandhi Road Market – For Lac Bangles
Best time to visit Bikaner
Bikaner, similar to any desert place, should be avoided to visit in summers. The summers here are sweltering, and if you are not comfortable with excess heat, then it is better that you see it in December or January. The ideal time for everyone who wants to explore the desert beauty is October to March, when the temperature remains below 20°C.
Bikaner has all the boxes for the right travel destination, and if you are looking for something offbeat, then nothing beats the mystical land of Bikaner in this aspect. Plan your trip now to experience the best moment of your life. 
Also read –