Extensive Guide to Bikaner Camel Festival 2022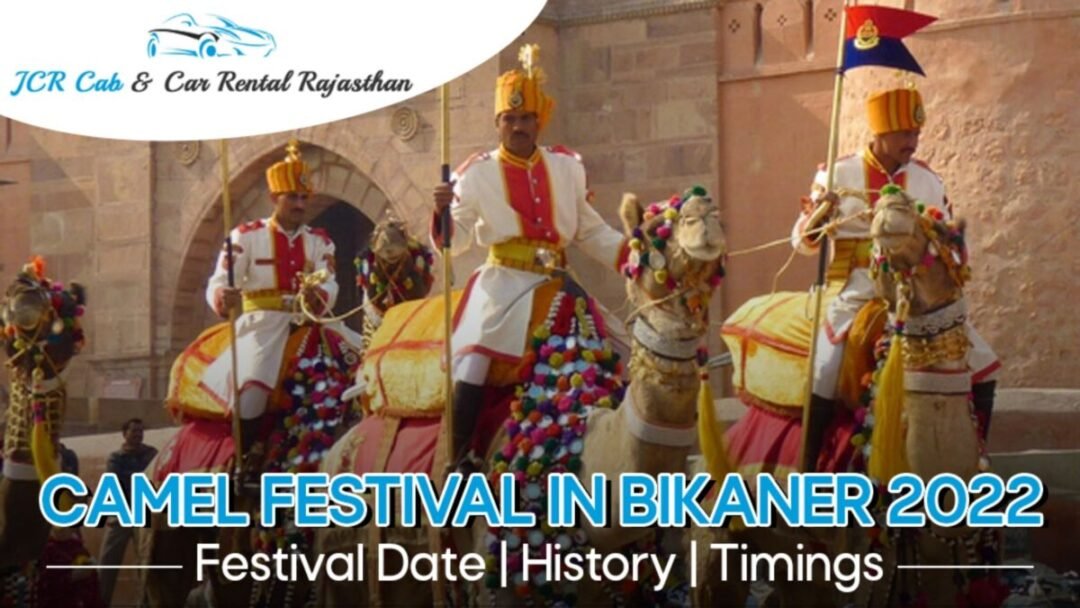 The annual International camel Safari festival in Bikaner is one of the best festivals in India. This event is famous for the appreciation of camels and the trading of camels.
The camel festival in Bikaner 2022 is scheduled to begin on 8 January, and it will end on 9 January. This two-day festival starts with a colorful parade of camels within the territory of Junagarh Fort of Bikaner.
History of Bikaner Camel Festival
It is organized every year with efforts from the Department of Tourism, Art & Culture of the Rajasthan Government. It is organized at Junagarh Fort of Bikaner, which is one of the ancient forts which historical significance in Rajasthan.
Since camels are ships of the desert and western Rajasthan earned their bread with camels in ancient times, this festival gives tribute to the desert animal. Camels also helped India in wars with Pakistan. The corp of camels is known as Ganga Risala in the deserted part of India. BSF (Border Security Force) is maintaining a lot of camels in modern times because of the deserted area near the Indo-Pak border.
Camels and Art at Bikaner Festival
Camels are dressed in vibrant and colorful bridles, heavy anklets, and beautiful necklaces. Camels also showcase their dancing skills. There are several camel games and activities are performed, including the camel race. Various cultural activities are also taking place at the event.
With glorifying and celebrating the state animal, many local artists also perform. This gives exposure to local artists to showcase their art on a big stage.
Camel Trading is also a popular activity at the Bikaner camel festival. Bidding on camels can also be seen here.
Tourism Significance
Tourism in Bikaner is affected in a positive way by this camel fair. Tourists from different parts of the world come and enjoy camel races here. Local businesses and handloom products are appreciated by tourists all over the world.
Tourism is at its peak in Rajasthan near January due to pleasant weather. Tourists from overseas also witness the fantastic art shows from local artists in winters.
The rise in tourism activities nearby local tourism destinations like Deshnok temple of Karni Mata and Bhandasar Jain Temple in Bikaner is also seen.
Activities at Camel Festival Bikaner
There are a ton of activities in the Bikaner camel fair you can take part in, and you can engage in several activities. Some of the activities you can witness in camel festival 2022 are:
You can enjoy trading camels or watch how the bidding of camels is done. You can trade camels and bid your amount for the purchase.
You can also taste the tea made out of camel milk and drink camel milk at the festival. With a lot of stalls, you can also see the handicraft and pottery of Bikaner.
Competitions like Miss Marwan and Mr. Bikana also attract the eyes of fashion enthusiasts. Local youth participate in the fashion event, which gives them exposure to the modeling world.
You can shop handicrafts of Rajasthan. Attractive items which represent Rajasthan culture are on the stalls for sale.
There are plenty of puppet shows happening at the festival, which are funny and creative. Spectacular puppet artists are very skilled and experienced. Puppet shows and youth engaging cultural activities are performed to keep the art alive.
Performances from local musicians, folk dancers, and folk singers provide cultural value with the flavor of entertainment.
Especially hand-made woolen wears like shawls, blankets are kept for sale. Outsiders can enjoy shopping for handmade and Rajasthan unique products.
Food stalls are there as well, so you can enjoy the delicious food of Rajasthan.
Enjoy the celebrations and get to know about camels
To celebrate the ship of the desert with the motive of increasing the tourism activities in the state, the govt of Rajasthan has started a camel festival in Bikaner. 
It has recently completed more than 25 years of celebrating this annual international festival successfully. You can book a taxi in Bikaner and enjoy camel trades at camel festival in Bikaner 2022, an international event of cultural importance.
Note : We Also Provide Jaisalmer Service For Tent Camp , And Desert Camp