Exploring the Colors of Jaipur: A 3-Day Itinerary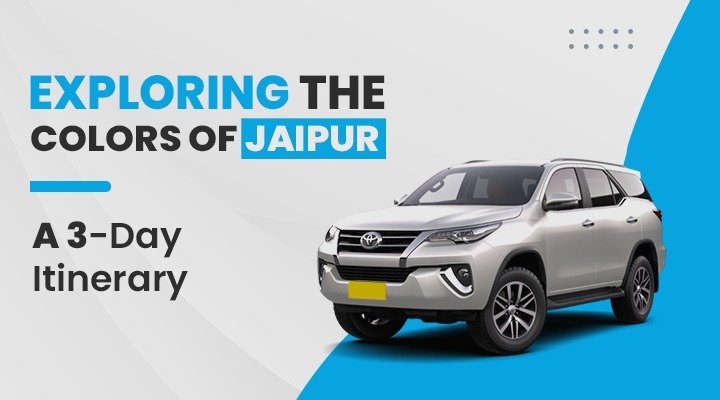 The dynamic city of Jaipur, which serves as the capital of the Indian state of Rajasthan, is well-known for its extensive history, gorgeous architecture, and vibrant culture that it possesses. Travelers will never forget their time spent in Jaipur thanks to the city's magnificent palaces, imposing forts, and vibrant bazaars. This three-day tour will lead you through the attractions of Jaipur, allowing you to immerse yourself in the city's regal legacy as well as its charming atmosphere.
Want to Explore Jaipur City Taxi Service in Jaipur is the Best option.
DAY 1
● The first day will focus on revealing the magnificent pink city. Your journey through Jaipur should start with a tour of Pink City, which is located in the city's historic centre.
● Your day should begin with a trip to the world-famous Hawa Mahal, often known as the "Palace of Winds." Admire the honeycomb-like intricacy of its facade, and gasp in awe at the spectacular vistas that can be seen from the windows.
Read More: Everything You Need to Know About Jaigarh Fort, Jaipur
● Next, make your way to the City Palace, which features a stunning fusion of Mughal and Rajasthani architectural styles. Explore the many different courtyards, museums, and opulent chambers that are rich with artifacts and artworks that offer a look into the regal past of Jaipur.
● Jantar Mantar is waiting for you just next to the City Palace. This location, which is included as a UNESCO World Heritage site, is home to a number of astronomical devices, one of which is the largest stone sundial in the world. Discover the amazing science that lies behind these ancient devices and the role that astronomy played in shaping their development.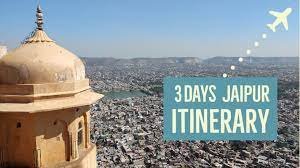 ● As the evening draws closer, make your way to Jaipur's markets and lose yourself in the energetic atmosphere there.
● Pay a visit to Johri Bazaar and Bapu Bazaar to engage in some retail therapy and browse for exquisite jewellery, handicrafts, textiles, and traditional Rajasthani apparel.
● Make it a point to stop at one of the city's well-known eateries, which serves an array of mouthwatering Rajasthani specialties, and indulge in the food of the region.
DAY 2
● Visit the majestic Amer Fort on the second day of your trip to Jaipur to learn more about the city's illustrious heritage. This magnificent fortress is perched on top of a hill and features elaborate architecture made of marble and red sandstone, as well as mesmerizing courtyards and spectacular views of the surrounding area.
● You have the option of climbing to the top of the fort on the back of an elephant or taking a ride in a jeep.
● After you have finished exploring Amer Fort, go on to Nahargarh Fort, which is located in the Aravalli Hills. This fort gives breathtaking views of Jaipur, and the sunset from atop the fort is an especially memorable experience.
● Take a leisurely stroll along its ramparts, take in the breathtaking architecture, and enjoy the pleasant wind while you're at it.
● The evening will be spent in Chokhi Dhani, a traditional Rajasthani village lodge, where guests will be able to observe the vivid cultural legacy of Rajasthan.
● Enjoy the traditional Rajasthani cuisine, together with folk dances, live music, and the warm hospitality of the locals. Participate in camel rides, watch puppet plays, and get your hands decorated with henna to fully immerse yourself in the diverse cultural customs of the area.
DAY 3
● On your last day in Jaipur, take some time to learn about the city's rich artistic and craft traditions. Start your tour off with a trip to the Albert Hall Museum, which houses a vast variety of artifacts such as miniature paintings, sculptures, and textiles. Be amazed by the intricate craftsmanship, and educate yourself on the rich cultural
history of Rajasthan.
● Next, make your way to the Anokhi Museum of Hand Printing, which is focused on the traditional art of hand block printing and is dedicated to conserving and promoting it. Learn the methods and procedures that lie at the heart of this time-honoured craft, and watch skilled craftspeople at work.
● Visit the enchanting and breathtaking Jal Mahal, a palace that is half submerged in Man Sagar Lake. This will round out your time spent in Jaipur. Take a boat ride to get closer to the palace, or simply stand back and take in the stunning architecture from a distance. Take in the serene setting, and make some beautiful memories with your
camera.
Read More: best time to visit Jaipur
● Before leaving Jaipur, make one last trip through the city's markets to pick up some mementos and local wares to take home with you. Get ready to have your mind blown by the vibrant colours, fascinating customs, and friendly
people of Jaipur, which will leave you with unforgettable memories of this amazing location.
JCR Cab is Best and Top Best Tour and Travel Company In Rajasthan, Which Provide Best Car and Safest taxi rental Service in Rajasthan, Also Its Provide Taxi Rental Services in All over Rajasthan, which best safe and Luxury Taxi Rental service in Rajasthan.